Oakland man at center of BBQ controversy the brother of Mistah F.A.B.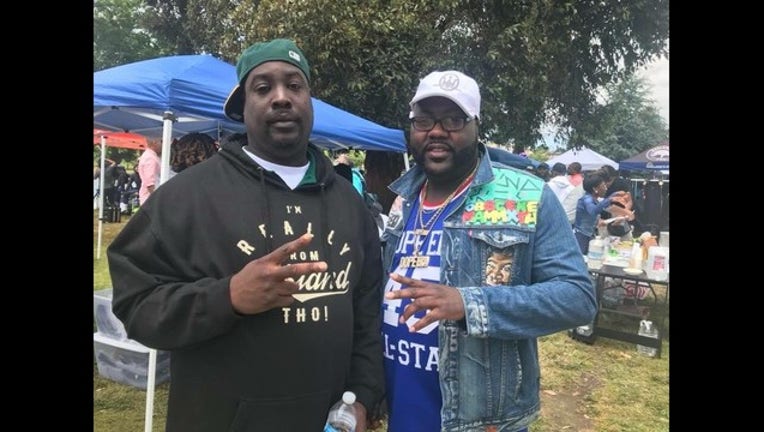 OAKLAND, Calif. - Kenzie Smith, the newest nominee to the Oakland Parks and Recreation Advisory Commission, isn't just an ordinary politically appointed candidate. 
His rise to becoming a future public servant was launched when a woman, identified in police reports as Jennifer Schulte, called police on April 29 because he and a buddy were grilling with charcoal BBQ in a non-designated spot at Lake Merritt.
On Thursday, Smith held his first brief news conference outside the Lake Chalet restaurant, with Lake Merritt in the background,  explaining the trauma he felt being treated like a criminal for simply grilling at the lake. "We had the cops called on us for simply trying to enjoy a day out a Lake Merritt," he said. "From our perspective, the incident was clearly racially motivated." 
For Smith, being told to leave the lake where he has grilled tri-tip for decades was  "a sign of the times. Oakland is going through some major transitions and more and more frequently, those of us who group up here and who have lived here for decades are made to feel uncomfortable and unwelcome in our hometown." 
If he is confirmed for a post on the commission, Smith said he'd like to start a nonprofit for youth, something he'd explain in more detail next week. "I would work to ensure that Oakland parks are places that are welcoming to all our members of our community," Smith said. "The parks and rec department must encourage community building and uphold diversity."
He did not have any specific ideas on whether the rules about charcoal grills should be amended, or if any signs need to be added around the lake to alert people where they can and cannot use charcoal grills. As it stands, the city does allow charcoal grills along some parts of the lake, but not where Smith and his friend were grilling along Lakeshore Avenue.
 Councilwoman Rebecca Kaplan nominated Smith for the post, saying that she thought he could turn the situation into something positive. She emphasized that she wanted to make "lemons out of lemonade" and that the public should start focusing its attention away from the woman who called 911, now infamously nicknamed "Barbecue Becky," and toward what positive things can be taken away from this teachable moment. 
So, who is Smith?
Aside from BBQ-gate, his other high-profile claim to fame is that he is the brother of Mistah FAB, aka Stanley Petey Cox, who was at the center of the Bay Area's "hyphy movement."
The rapper is also well-known for his altruism, including his regular toy drives and backpack giveaways.
"He's always loved outdoor activities," Mistah F.A.B. told KTVU by phone of his brother. "He is going to help rebuild a safe community for everyone. This is a great position for him."
And while he has never held an elected position, Smith launched a fundraising drive last spring to feed the homeless and he helps out behind the scenes at many of Mistah F.A.B.'s giveaway events. 
Smith is currently in between jobs, but has a career history in construction and facility maintenance. He also is the co-owner of Dope Era Magazine, which he runs with his wife, Michelle Snider. 
Snider is the woman who took the now-viral video of Schulte calling 911 on her husband and a friend because they were using a charcoal grill in a non-designated spot. Smith had felt targeted by Schulte and texted his wife that if he ended up in jail that day, the interaction with Schulte would be the reason why.
Snider, who is white, came down to the lake to record what was happening. While Schulte insisted on the video that she didn't call police because Smith and his friend, Onsayo Abram, were black, both men both said that off-camera she called them the N-word. Plus, they argued, there was no reason to call police on them, a triggering event that can often lead to violence and death for many in the black community.
Smith and his wife, who met his wife at an E-40 music event and married in 2013, are raising 18-year-old twins who are studying at Laney College where Snider attends, too. Snider is studying journalism and her daughters are interested in becoming a bilingual high school teacher and a film maker. 
As for Mistah F.A.B.'s thoughts on the whole issue?
"This has highlighted the divide in America," the rapper said. "Are  you going to pick a fight? Maybe you need to look in the mirror to see if your racism is hidden or blatant."