Oakland neighbors meet to discuss role night clubs may play in violence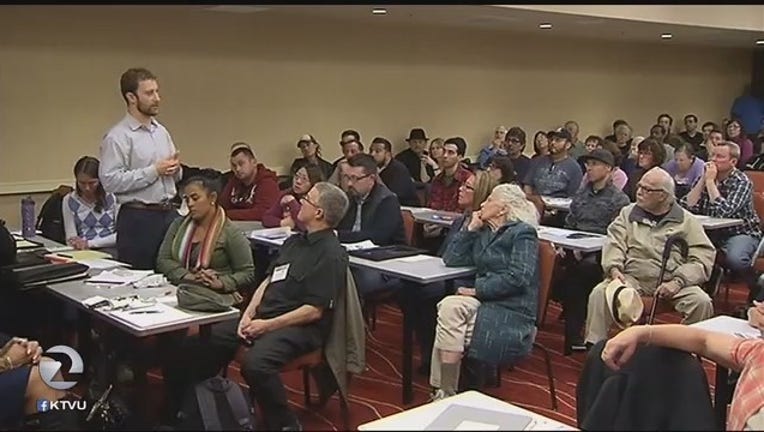 article
OAKLAND, Calif. (KTVU) - Oakland neighbors met Wednesday evening to discuss violence and the role night clubs in the downtown area play.
Old Oakland Neighbors, a neighborhood organization, held the meeting in a packed conference room in the Marriott.
Some say they believe night clubs have played a role in four homicides, and at least a half dozen shootings over the last two years.
Old Oakland's Ron Wolf said the group would like to see more police patrols in the area on the weekends, and the group would also like to see more transparency in the cabaret permitting process.
He said he'd also like to see the codes already on the books enforced.
"Typically when a cabaret permit is issued there's conditions to it, and the clubs don't necessarily adhere to those conditions," said Wolf.
He also said he'd like to see the clubs do more to protect patrons and bystanders when the clubs close and the customers spill out onto the street at closing time.
"They all tend to have some sort of security on the premises, but most of these incidents don't happen on the front door. They may happen a block or two away."
Chris Rachal owns Liege Spirits Lounge and said blaming the clubs for violence in Oakland is simplistic and counterproductive.
"When I saw the reports that Old Oakland Association was saying that the nightclubs are the reason for the violence I was offended," said Rachal.
He said clubs already pay an extra fee that goes to fund extra police patrols. He also said that while he is only required to have four security guards on duty he goes above and beyond to keep his patrons and the community safe.
"We have five guards that are in house on any given night, and we have one that's solely outside, so we actually employ six," said Rachal.
The latest shooting to happen in proximity to a club is the shooting death of Emilio Nevarez. Nevarez was struck by a stray bullet after finishing a gig in downtown Oakland.
On Wednesday, his friend gathered at the scene of the shooting, hoping the $20,000 reward would help bring tips to solve the case.
Eric Rivera who knew Nevarez since middle school says he also hopes Oakland can do something to stem the violence.
"They gotta step their game up, I'm not the one to tell them how to do it, but all of us, we come out here to Oakland and San Francisco it's where we spend our weekends and everything," said Rivera.
Oakland police attended Wednesday night's meeting in Old Oakland and said homicide officers are reviewing video and may release video or photos of a suspect or suspects in the case soon.