Oakland school district, teachers reach tentative contract agreement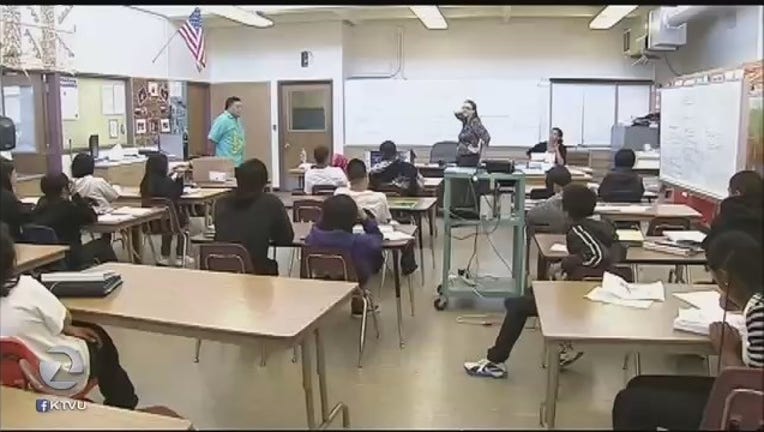 article
OAKLAND (KTVU and wires) -- Oakland school teachers will receive a salary increase of at least 8 percent by next January under the terms of a tentative agreement with the school district that was reached just before midnight, the head of the teachers' union said Thursday.
Trish Gorham, president of the Oakland Education Association, said the agreement is the culmination of one and a half years of negotiations, although she said talks didn't really start moving until last November.
The three-year pact covers the current school year, which ends in June, plus the next two school years, Gorham said.
The pay increase is "a real boost" that will lift Oakland teachers to the median salary range of teachers in Alameda County, she said.
Oakland Unified School District superintendent Antwan Wilson didn't disclose the details of the tentative agreement, but said in a statement, "Oakland public school teachers and all other OEA unit members are poised to receive the largest increase in pay in over a decade."
Wilson said there will also be "significant improvements in working conditions through lower class sizes and many other tangible supports."
Gorham said she expects the union's 2,400 members, which include teachers, nurses, counselors, social workers, speech therapists and psychologists, to vote on the tentative agreement either the last week of May or the first week of June.
Wilson said the school board is expected to vote on the agreement at its meeting on May 27.
The tentative agreement was reached several weeks after 94 percent of union members participating in a vote authorized a strike for next fall if an agreement wasn't reached.
"We didn't want to get caught off-guard so we were hoping for the best but preparing for the worst," Gorham said.
Under the tentative agreement, Gorham said, teachers will receive a 2 percent increase retroactive to July 1, 2014, a 1 percent hike retroactive to this past Feb. 1, a 2.5 percent increase effective at the end of the current school year and an additional 2.5 percent raise next January.
The 2.5 percent raise next January is connected to a requirement that teachers work an extra half-hour one day per week beginning in the fall of 2016, she said.
Teachers are expected to receive an additional bump in their pay if a projected expected increase in state funding comes through, according to Gorham.
She said another important part of the tentative agreement is having a ratio of only 24 students per teacher for all elementary schools and having all class size averages reach state-mandated levels five years earlier than previously scheduled.
Gorham said the ratio of counselors to students will be lowered to 600-to-1 for grades 6 through 12 and counselors won't be required to work at more than three school sites.
In addition, substitute teachers who work full-time will receive dental and vision benefits, Gorham said.
Wilson said the tentative agreement includes improvements in the way school communities select teachers and creates opportunities for innovative schools to craft and implement school improvements and specialized programs.