Oakland shuts out Astros 4-0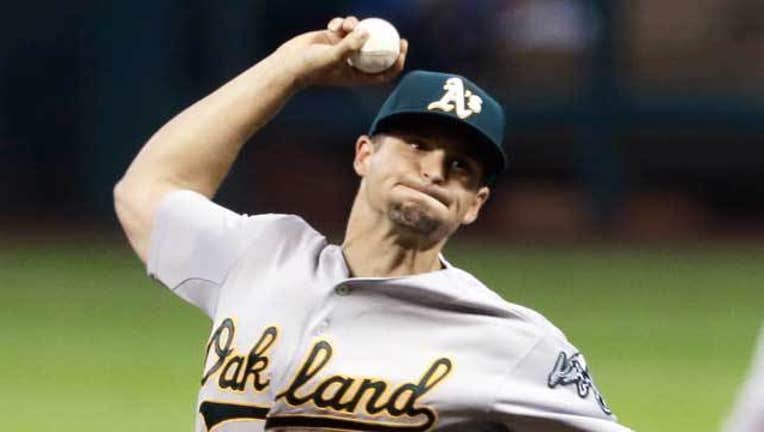 article
HOUSTON (KTVU-AP) -- Oakland rookie Kendall Graveman was walking off the mound after pitching into the sixth inning of what would be his first major league win against the Astros on Tuesday night when he heard a familiar voice.
Graveman didn't think any of his family was in Houston to see him pitch. He was thrilled when he realized it was his uncle John Andrews who had traveled from Alabama to be at the game.
"I don't how he got here," Graveman said. "Did he drive? Did he fly?"
Either way, the 24-year-old pitcher was excited.
"It's always good to have family around," he said. "So yeah, it surprised me."
Four relievers completed the shutout to help the Athletics to the 4-0 victory.
Graveman (1-1) yielded four hits in 5 1-3 innings to bounce back from his first major league start, when he allowed eight runs in 3 1-3 innings. Eric O'Flaherty allowed one hit in 1 2-3 innings, Dan Otero gave up two in 2-3 innings, and Fernando Abad retired one batter before Tyler Clippard finished it off in the ninth.
The Athletics were up by 1 in the sixth inning before an RBI double by Billy Butler that gave him the American League's only nine-game hitting streak. Stephen Vogt added a run with an RBI single later in the inning to make it 3-0.
Houston starter Brad Peacock (0-1) allowed five hits and three runs in five-plus innings after being activated from the disabled list on Tuesday. He made one rehabilitation start at Triple-A Fresno as he recovered from offseason hip surgery.
Houston outhit Oakland 8-7, but the Astros couldn't push across any runs as they went 0 for 7 with runners in scoring position.
"We just weren't able to get that hit that catapulted us," Houston manager A.J. Hinch said. "Some good at-bats, some bad at-bats, and then ultimately no runs. That's not a good combo."
Sam Fuld, who finished with two doubles, hit his first one to lead off and scored on a one-out sacrifice fly by Ben Zobrist to make it 1-0.
Graveman pitched around a pair of walks in the second and plunked Jed Lowrie with two outs in the third. But he retired Evan Gattis to end that inning.
Luis Valbuena singled with no outs in the fourth for Houston's first hit since the first inning and Jason Castro singled with one out. Graveman settled down after that to sit down the next two batters and end the threat.
Oakland manager Bob Melvin was impressed with how Graveman performed with runners on base on Tuesday night.
"For a youngster who had a tough first outing that shows you a little bit of what he's made of because you're still thinking about, to an extent, you want to get past that first outing that didn't go well," Melvin said. "And now you've got guys on base with pretty good hitters up, and to be able to make a pitch when he had to and get an out when he had to, confidence-wise that goes a long way for him."
The Astros had runners at first and second with one out in the sixth when Graveman was replaced by O'Flaherty. He quickly ended the inning when Castro grounded into a double play.
Right fielder Josh Reddick robbed Gattis of a hit when he grabbed his fly ball on the warning track in the eighth inning. Valbuena and Carter hit consecutive singles after that, but they were stranded when Reddick caught a long fly ball hit by Castro.
Reddick had an RBI single for the Athletics in the ninth inning.
TRAINER'S ROOM
Astros: Houston starter Brett Oberholtzer, who opened the season on the disabled list with a blister on his left index finger, could throw off the mound soon after playing long toss without a bandage on his injured finger for the second straight day on Tuesday.
FIRST PITCH
Former Houston Rocket and seven-time NBA All-Star Tracy McGrady threw out the ceremonial first pitch before the game. McGrady, who pitched briefly last season for the Sugar Land Skeeters in the Independent Atlantic League, threw a strike.
UP NEXT
Athletics: Left-hander Drew Pomeranz looks to extend a 15-inning scoreless streak dating back to last season when he makes his second start. He tied a career high with seven scoreless frames in a 12-0 win over Seattle on Friday.
Astros: Collin McHugh will try to stretch his career-long winning streak to nine games in his second start. He allowed one run in six innings against Texas on Friday to give him the longest winning streak by an Astros pitcher since Roy Oswalt won nine straight from Aug. 23, 2006-April 17, 2007.