Obama unleashes frustration over political gridlock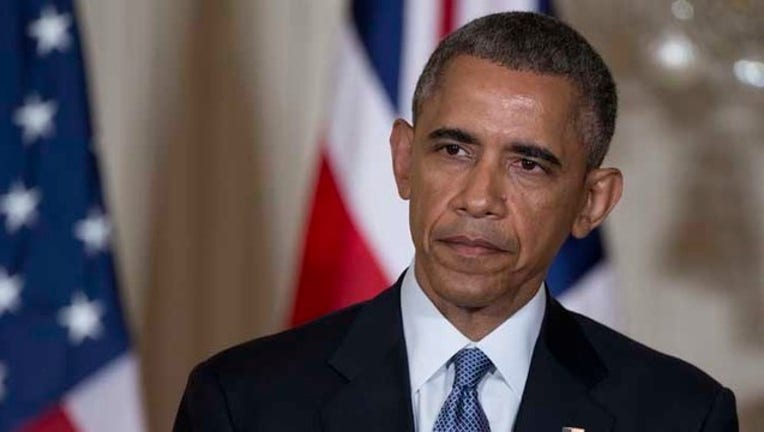 article
BEVERLY HILLS, Calif. (AP) — President Barack Obama is unleashing his frustration over perpetual political gridlock and his own inability to bring the change to Washington that he campaigned on, as he hit the California fundraising circuit to raise money for fellow Democrats despite their rejection of his trade agenda.
Obama's dark mood is a reflection of tense times, as America grapples with yet another mass shooting and lawmakers are engaged in a pitched debate over his effort to complete trade negotiations with 11 Pacific Rim nations. Obama told donors at a Democratic Party fundraiser hosted by filmmaker Tyler Perry Thursday evening that he has struggled "mightily" against division in politics but the system "still is broken."
"The problem is that too often the political system doesn't reflect the common sense and decency of the American people," Obama said. On the heels of the arrest of a white man in the shooting deaths of nine at a black church in South Carolina, he decried inaction over gun control, poverty, stagnant incomes, criminal justice reform and equal opportunity.
Obama spoke from a tent set up on the lawn of Perry's hilltop home, one of four fundraisers with tickets as high as $33,400 he's headlining for Democrats over two days. On Friday evening, he planned to appear with House Democratic Leader Nancy Pelosi at a fundraiser in her San Francisco district, awkwardly coming as the two remain opposed over the trade legislation that is a top priority for his second-term agenda.
Obama did not mention the family feud at Perry's house, attended by about 250 donors including "Mad Men" creator Matthew Weiner and star January Jones, former NBA basketball player Jason Collins, former Los Angeles Dodgers owner Frank McCourt and Netflix chief content officer Ted Sarandos.
Instead he told of a Colorado man who wrote him a letter listing all that had not been accomplished during his presidency. Obama said the man wrote that he voted for him twice but was "deeply disappointed."
"He thought that when I got to Washington I could bring people together and make them work more effectively, and the fact of the matter is that Washington is still gridlocked and still seems obsessed with the short-term and the next election instead of the next generation," Obama said. "And on that issue, I had to tell him, 'You're right. I am frustrated and you have every right to be frustrated because Congress doesn't work the way it should.'
"The incentives that are built into the system reward short term, reward a polarized politics, reward being simplistic instead of being true, reward division. And as mightily as I have struggled against that, I told him, 'You're right. It still is broken.'"
He said one of the biggest focuses of the last year and a half of his presidency will be trying to convince Americans that they must act for the change they want and not to "just throw up our hands and give up" because Washington is dysfunctional.
Before leaving Los Angeles, Obama planned to sit in comedian Marc Maron's garage studio for an hourlong podcast interview available Monday. Then he was flying to San Francisco to address the U.S. Conference of Mayors before his fundraisers.
The fundraiser with Pelosi is expected to draw more than 50 donors to the Sea Cliff home of retired hedge fund billionaire Tom Steyer. While in California, he also was headlining two private discussions attended by about 30 donors each — one Thursday afternoon hosted by television series creator Chuck Lorre in Los Angeles and a second planned Friday in San Francisco hosted by Silicon Valley venture capitalist Shervin Pishevar.
Obama then planned to spend Father's Day weekend in Palm Springs, a favorite golf destination, while his wife and daughters are in Europe.