Off-duty pilot comes to aid of overwhelmed mother of four on flight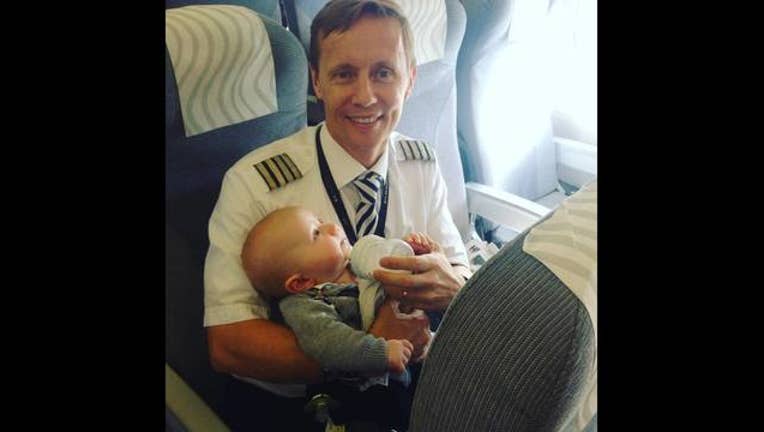 article
HELSINKI (KTVU) - A heartwarming photo of an off-duty pilot lending a mother of four a helping hand is getting a lot of attention on the internet.
The image shows a Finnair captain Tom Nystrom who was on a flight as a passenger.
Also on that flight was a mother whose hands were literally full. She was traveling with four boys, two of them babies.
On Instagram, cabin crew member Ami Niemelä posted the now viral picture noting, "Naturally one cannot travel with two babies on one's lap, so we had to solve the dilemma of missing lap."
Enter Tom the pilot who gladly lent not only his lap, but stepped up to offer some childcare.
"Luckily we had our positioning crew on board and wonderful Tom took the task of being the extra-lap," explained Niemelä.
Her photo captured a smiling pilot feeding the baby, whose eyes are fixed on the good Samaritan who has come to his mother's aid.
"Don't you find them quite adorable! <3" wrote Niemelä.
Many who have seen the image agree and the photo has drawn praise from folks who are calling the pilot a great example of human kindness. "absolutely fantastic, really a great action," wrote Instagram user annevanschaik18.  
"This is incredibly inspiring and kind. I've travelled alone with my babies and it's so hard. Having strangers show you this kind of kindness during this stressful time means more than anyone can know... Thanks for sharing this story and restoring our faith in humanity," commented traveltots.ca.
At least one person couldn't help but draw a comparison to United Airlines, which came under fire last week for forcefully removing a passenger off a flight.
"little better then @united story?" asked Instagram user leschefwalter.