Off-duty Pleasant Hill pilot arrested after allegedly trying to shut off San Francisco plane's engines
PORTLAND, Oregon - An off-duty Alaska Airlines pilot has been arrested and accused of attempted murder, among other charges, after allegedly trying to shut off the engines on a plane bound for San Francisco on Sunday.
Joseph David Emerson, 44, of Pleasant Hill, Calif., was being held without bail in Multnomah County, Ore., after being booked into custody Monday at 4:11 a.m., jail records show. 
He is in custody on 167 charges, including 83 related to attempted murder. Other charges include reckless endangerment, which is a misdemeanor. 
Emerson's arrest come after the crew on Flight 2059, operated by regional airline Horizon Air, reported a "credible security threat" Sunday after departing from Everett, Wash.
Alaska Airlines officials said that's when Emerson tried to seize control of the operation engines. 
He had been sitting in the flight deck jump seat, a spot in the cockpit reserved for people not flying the plane.
The plane was safety diverted to Portland about 6:30 p.m. Sunday and all the roughly 80 passengers on board were able to book a later flight. 
SEE ALSO: Suspect accused of 2 deadly shootings in San Leandro gym parking lot
"We are grateful for the professional handling of the situation by the Horizon flight crew and appreciate our guests' calm and patience throughout this event," Alaska Airlines said.
The incident is being investigated by authorities, including the FBI and the Port of Portland Police Department.
Even Secretary Pete Buttigieg weighed in, saying how grateful he was for the "professional flight crew and air traffic controllers who stepped up to guide this plane safely to Portland."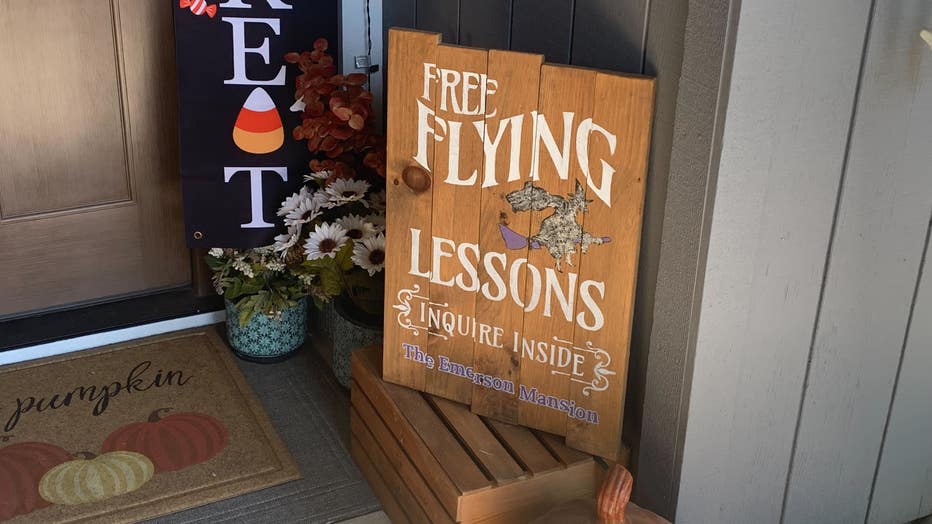 A sign in front of Joe Emerson's Pleasant Hill home. 
A motive has not been revealed.
Doug Rice, regional vice president of California Pilots Associated, provide insight into the use of the jump seat. Rice explained that pilots seeking use of the jump seat must undergo a vetting process before given clearance to occupy that seat.
Rice also mentioned that off-duty pilots frequently use the jump seat when a plane is at full capacity, and the jumpseat is the only available option. But it's important to note that these off-duty pilots must have received clearance to use it.
At Emerson's suburban home in the East Bay, a sign on the front porch advertised flying lessons with a witch in a broomstick. Emerson also is a youth baseball coach for the Pleasant Hill Baseball Association. 
KTVU reached out to several of Emerson's relatives and did not immediately hear back. 
However, some of his neighbors were in complete shock.
Ed Yee said his grandchildren have played with Emerson's two children before and that they all seemed very pleasant.
"Nice people as far as I could tell," Yee said. "I see Joe all the time working in the garage or doing something I'd go over and talk with him."
Yee said this all sounded very out of character for Emerson.
SEE ALSO: Off-duty Alaska Airlines pilot facing attempted murder charges rode in plane's jump seat
"He didn't talk about his job much, but he loved from what I could tell, being a pilot and getting new training, just enjoying his job."
A profile Emerson created on X, formerly known as Twitter, shows him under the handle @jophusdavid.
He is wearing a captain's hat and sunglasses and looks like he is seated inside a plane playing what appears to be a ukulele.
He hasn't posted since March 2022, only has 49 followers and writes mostly about improving conditions for pilots.