Oregon parents arrested after allegedly abducting their son from grandparents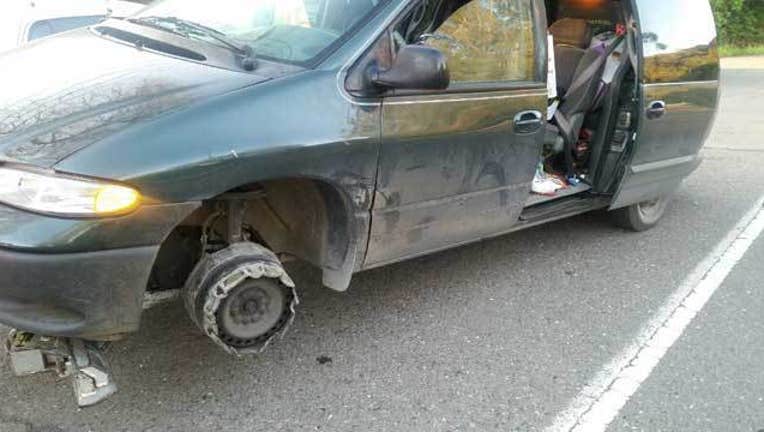 article
SONOMA COUNTY, Calif. (KTVU and wires) -- The parents of a 3-month-old boy who they allegedly abducted from his grandparents were arrested early Wednesday after they were found intoxicated on drugs in a vehicle on state Highway 128 in Sonoma County, California Highway Patrol officials said.
Lars Ray Dunaway, 25, and Kristen Sandidge, 23, of Sutherlin, Oregon, were found in a disabled Dodge Caravan on the highway north of Cloverdale around 5:40 a.m., according to the CHP.
CHP officials said the pair took the infant from his grandparents, who have legal custody of him in Oregon.
CHP Officer Mike Phennicie and a Cloverdale police officer responded to a call about a crash on the highway, but noticed the Dodge had been driven a considerable distance without a left front tire. CHP officials said the wheel was worn down to the hub.
Dunaway, the driver, was extremely intoxicated on drugs and was wearing only shorts and shoes even though the temperature was in the mid 30s, according to the CHP.
Dunaway was unable to answer basic questions and he was arrested, CHP officials said.
Sandidge, who also was intoxicated on drugs, was holding the infant when contacted, but was persuaded to put the boy back in a car seat, according to the CHP.
When she was ordered to place her hands behind her back, Sandidge grabbed the car seat and tried to flee. Phennicie and a Sonoma County sheriff's deputy who had also responded to the scene chased her and the deputy took the car seat as Phennicie restrained and arrested Sandidge, CHP officials said.
The infant was taken to the Cloverdale Police Department, where officers and citizens who heard about the incident provided clothing, formula, diapers and other items for the boy, according to the CHP.
Sonoma County Child Protective Services contacted a similar agency in Oregon and the boy was returned to his grandparents later on Wednesday, CHP officials said.
Dunaway was booked into Sonoma County Jail on suspicion of being under the influence of a controlled substance, driving with a suspended license and child endangerment.
Sandidge was booked on suspicion of being under the influence of a controlled substance and resisting or delaying officers.
They are scheduled to be arraigned Friday morning in Sonoma County Superior Court.