Orphaned mountain lion cubs settle into brand-new habitat at Oakland Zoo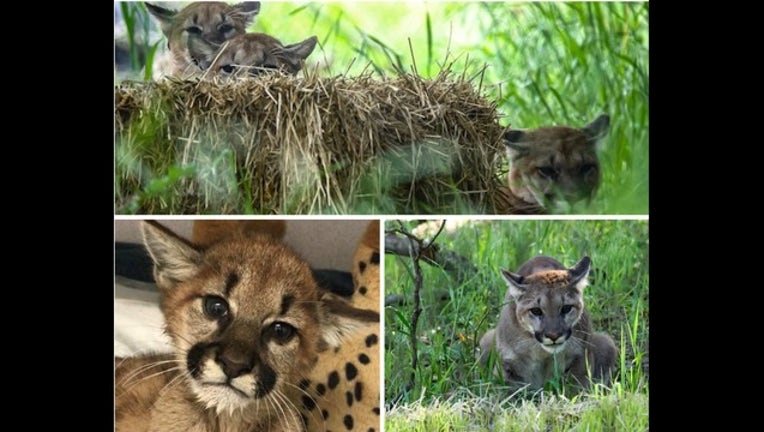 article
OAKLAND, Calif. (KTVU) - Three young, orphaned mountain lions, all of which were found incapable of returning to the wild, are officially settled into their brand-new, expansive habitat at the Oakland Zoo, officials said. 
As part of the zoo's upcoming California Trail expansion, the space is one of the largest mountain lion exhibits in the world and will be open to the public this June. The three cubs – Coloma (female), Toro and Silverado (males) – which were so malnourished they had to remain under quarantine with around the clock care for months, have fostered a bond that's "formed a strong family unit."  
And it didn't take long. The care team at the zoo said the cubs immediately embraced their new habitat, which includes multiple large oak trees, caves and 50-foot-tall netting. Mountain Lions are more active at dawn, dusk and at night. And recently, cameras caught the three rough-housing throughout their new digs during the dark hours. The footage is comforting to the staff who lived the cat's recovery process.
"It's been a long road to recovery for each of these orphaned puma, and a very emotional time for all of us who have helped them become normal young cats. Sometimes shy, other times wacky, and often sleepy, it fills my heart to see them act like mountain lions," said Darren Minier, Assistant Director of Animal Care, Conservation and Research at Oakland Zoo.
As determined by the California Department of Fish and Wildlife, the cubs had no chance of surviving if released after being treated, zoo officials said. Young cubs need their mothers to effectively learn to hunt and survive. And even with their mothers, they struggle to survive in the wild. 
"Mountain lion cubs need up to two years with their mom in order to learn how to survive and thrive. Human survival training is not possible. The Bay Area Puma Project supports Oakland Zoo's efforts to care for pumas that cannot be released into the wild," said Zara McDonald, Executive Director of the bay Area Puma Project. 
When Coloma, the youngest of the bunch, was discovered on the side of a road last December, she attempted to drag herself away from approaching humans. She was near death. The couple that found her contacted Sierra Wildlife Rescue, who contacted CDFW, and a rescue was shortly underway. Toro and Silverado, her new "brothers," were found in Southern California's Orange County area. 
Mountain lions are often struck by cars and shot when seen as a threat in urban areas, which has contributed to the cats becoming critically endangered in California. The Oakland Zoo partners with conservation organizations like the Mountain Lion Foundation and the Bay Area Puma Project in an effort to conserve the species in the wild. The Oakland Zoo also helped to launch the Bay Area Cougar Action Team in 2013. The team is in alliance with the two organizations listed above.