Pair of pups find new home after hugging pic goes viral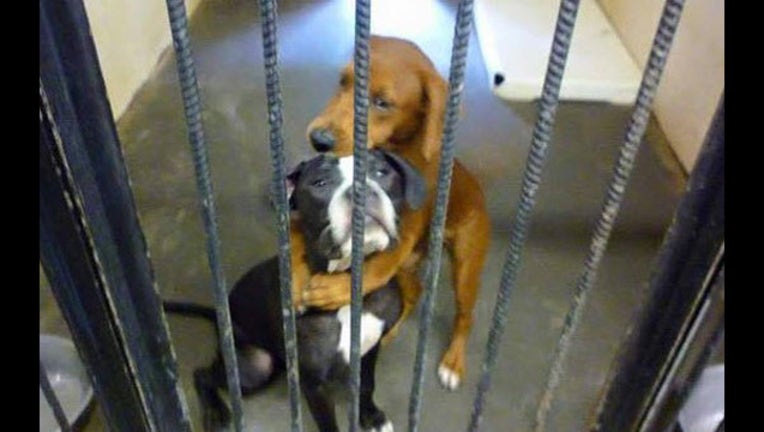 (My Fox Atlanta) -- It took a little more than two hours for a pair of shelter pups to find a new forever home and escape the big nap. A local rescue, Angels Among Us Pet Rescue, credits a photo of the pair hugging for getting the job done. 
The Atlanta-based rescue posted the pic of Kala and Keira on Facebook on Monday. Below the photo was a short short, first-person passage written from the perspective of one of the dogs. 
"I'm Kala. This is Keira. We're so scared in here. The people working in the shelters see how scared we are but just told each other that today is our deadline. We have to have someone rescue us or we'll be "next." Keira is black and not a "real boxer," just a mix. She's so brave and tells me it will be okay no matter what happens. She tells me to be brave too but I don't know if I can be. Can you see our faces. Keira knows what will happen. You can see it in her eyes. She's putting on a brave face for sure but I can feel her heart beating fast while I'm clinging to her. If no one saves us, someone will take her away from me. I'll see her as she goes down the hallway. She won't come back and I'll cry. They'll come for me next and I won't be as brave. We've comforted each other while we were here. She gave me hope when I had none. Now it's over. Unless..." 
And wow did that post make an impact! It was shared thousands of times on social media, received thousands of likes and withing a few hours both pups were adopted by an unnamed vet from the Atlanta area. 
Talk about the power of social media!