Palo Alto officers acted 'reasonably' after punching man they thought was shoplifting, superiors say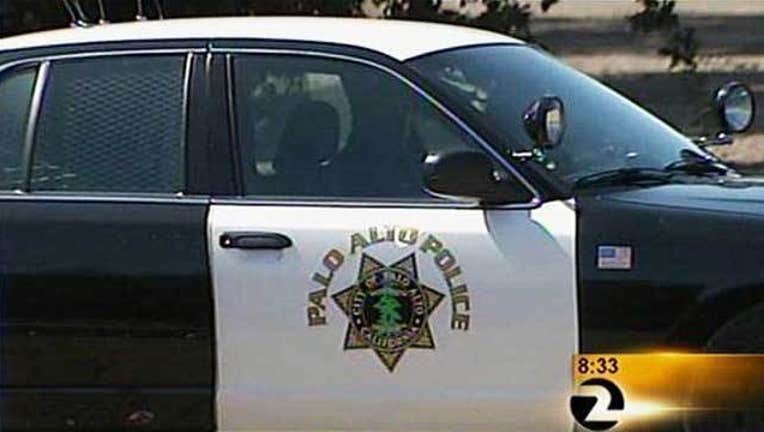 article
PALO ALTO, Calif. (KTVU) - In the first release of its kind since a new police transparency law took place, Palo Alto police superiors found it was reasonable that officers punched a man causing him to yell out "I can't breathe" when they thought he was stealing from Macy's, but dinged the undercover officers for failing to turn on their recording devices before the takedown.
The case in question follows an internal use of force investigation by Palo Alto police stemming from a Dec. 23, 2015 takedown at the Stanford Shopping Center. 
Five officers ended up detaining a man who they thought was shoplifting; two of them punched him in the face and hip. The man, whose name was redacted, suffered a fractured eye orbital, but it's not clear whether the officers caused that or whether the man did it himself while he was on the ground, face down, trying to wriggle free from the officers. 
Interactive map: Who is releasing police personnel files under new law and who is not
In the end, the man showed police the receipts for what he had bought – it turned out he hadn't stolen anything and was resisting their commands because he hadn't done anything wrong. He was on probation and didn't want any contact with police. 
The Palo Alto Police Association did not return immediate comment on Thursday. 
According to police reports, the saga began with two undercover police officers, Sgt. Brian Philip and Officer Daniel Fino, surveilling the shopping center two days before Christmas to look out for shoplifters. Neither of them had turned on their recording microphones and so information that was given later, and in some cases, recanted, is all "after the fact," according to reports summarized by their superiors.
Leading up to the takedown, a security guard at Macy's came up to the officers and told them a group of black men were acting "boisterous" and "loitering in the area." One of the men in the group had torn off a price tag, but the guard then said she saw him standing at a register though she didn't actually see him pay. She told police she thought what he did was "ghetto." The man who got punched by police, who was wearing a red jacket, had been hanging out with this group. She said she never accused this man in particular of stealing but she did say the entire group was acting suspiciously. She told police "these subjects did not act like other shoppers in the area." 
Calif. AG won't release police records despite court ruling
The officers decided to "detain and speak with the suspect," according the police reports. They were in plain clothes but they said they identified themselves as police, although he later said they didn't. The man didn't stop and told them he did nothing wrong, the reports state.
Both officers applied control holds on his wrists to keep him from leaving. The man began to tense his arms and tried to walk away. In order to prevent him from doing that, police pinned him against a parked car. Philip called for emergency assistance and they struggled with him.
At that point, Lt. James Reifschneider and officers Jeremy Schmidt and Paul Burgio arrived. They joined the struggle and took the man to the ground. Again, the man told police he hadn't done anything wrong and said he was being racially targeted. "I'm black, I'm black," he yelled out to police, according to the report. "I can't breathe," he added at one point.
Another security guard who watched some of the arrest said he believed the man could breathe because he was moving around. He also saw the man scraping his head on the ground, which police later concluded may have been the cause of the eye fracture, not the police officers' punches. A medical report was not attached to the release of documents to offer an independent assessment.  
Philip later told his superiors that he fell to the ground with the man and his left arm was around his neck as a result of the takedown. Philip stated he made sure he did not choke the suspect and he tried to get his arm free as quickly as he could, the reports indicate. 
On the ground, the man still resisted, police wrote, trying to push himself up, moving his legs and refusing to obey commands.
It was at this point that Burgio "delivered one blow to the suspect's head." He told his superiors that he feared the man may have been reaching for his police gun. Reifschneider then hit the man with his fist "several times in the hip." Eventually, they were able to handcuff the man, whom they later learned had been on probation out of Napa County. 
In the hospital, the man told police that he did not want to be contacted by the officers on that day because he had been incarcerated before. He "thought he did nothing wrong," he told police in the report, "so the officers had no right to grab him." He said he had receipts for everything he bought and wasn't involved in any theft. 
The 90 pages of police reports were obtained by 2 Investigates this week through a Public Records Act and come after Palo Alto police initially resisted releasing the documents citing the Attorney General's refusal to make public these types of transparency records. While Xavier Becerra still won't release the documents, the First Court of Appeals ruled last month that records that fall under SB 1421 must be released, no matter when they were created. The type of records that the public can now see include when there are sustained findings when an officer uses force that causes great bodily injury, and when an officer lies or has sex with a member of the public.