Patrons left anti-immigrant note for server, NJ cafe says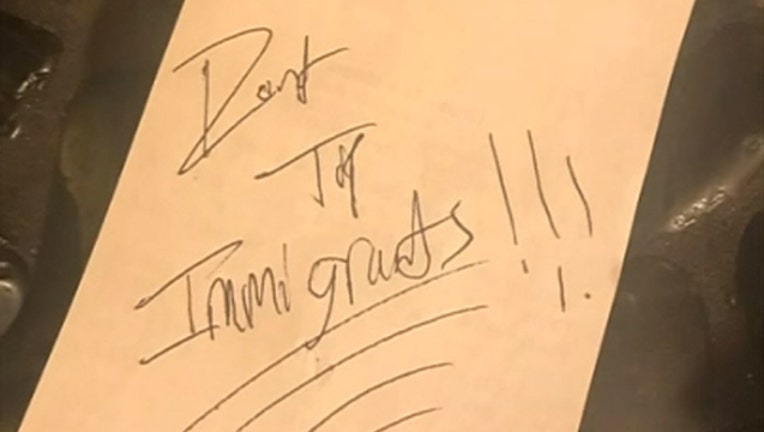 article
BORDENTOWN, N.J. (FOX 5 NY) - A sign of anti-immigrant sentiment turned up in a restaurant in New Jersey, angering the staff and their supporters.
Under the Moon Cafe in Bordentown posted a photo on social media of a nasty note some customers left last week.
Santiago Orosco, the owner, wrote on Facebook that a couple came in on Thursday, Jan. 24, and seemed excited to eat there and even appreciated the food and the service. But they apparently didn't like that their server, Lorena Bossi, who is American, spoke to another worker in Spanish.
Bossi told her boss that the couple wrote "Don't tip immigrants!!!" on the back of their check.
"I am utterly shocked at this blatant ignorance," Orosco wrote on Facebook. "I am a very proud immigrant. I came to this wonderful country for a better future, which, with a lot of sacrifice, heartache, pain and sweat I have accomplished."
Orosco said the restaurant and Bossi, who is bilingual, has gotten a lot of support in recent days.
"My family has tirelessly worked to create a great life and I owe it to this country and all its opportunity (America has always been great!!!)," Orosco said on Facebook. "Immigration and cultural blending are what created this special country; I truly believe that immigrants are key contributors to our society."