Peavy goes 4 in Giants loss to Rangers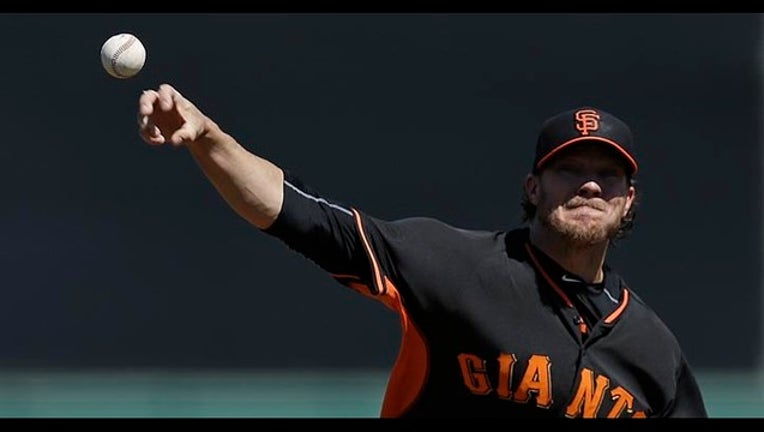 SCOTTSDALE, Ariz. (AP) -- Texas top prospect Joey Gallo hit a three-run homer off San Francisco's Jake Peavy, and the Rangers beat the Giants 3-0 on Friday.
Peavy allowed three runs and three hits in four innings.
Rangers starter Nick Martinez, in the mix for a spot in the starting rotation, allowed two hits in 2 2-3 innings. He struck out four and didn't walk a batter.
Ross Detwiler, also a candidate for a starting spot with the Rangers, allowed two hits, walked one and struck out two in two scoreless innings.
Peavy, who hit two batters, got in trouble in the third after drilling Hanser Alberto leading off. Delino DeShields, who left the game because of tightness in his right hamstring, followed with a bunt single.
One out later, Gallo hit Peavy's first pitch over the right field fence for his second homer of the spring.
Joe Panik doubled and Buster Posey singled with one out in the first, the closest the Giants came to scoring. Brandon Belt tripled in the sixth but was thrown trying to score on a wild pitch.
STARTING TIME:
Martinez felt good about getting out of a first-and-third jam in the first inning. "Even after you get two outs with runners in scoring position, you have to stay mentally into the game," he said. "It's not the time to give in. I stepped off the mound and regrouped myself. I felt good in the first inning. I had that long at-bat, and my stuff got a little sloppy after that."
Rangers' manager Jeff Banister liked his competitive nature. "After that first inning, he settled in and battled through it," Banister said. "It was rough but he got off the dirt. That snapshot tells me he can assess the moment and get back to pitching. He slowed the game down for himself."
Banister also likes what he sees from Detwiler. "He has shown us what we expected," he said. "We saw a sharp breaking ball, and his change is in play. He's willing to challenge both inside and out with his fastball."
Peavy said the important thing was being able to go four innings. It also allowed him a chance to bounce back after giving up the home run. "It felt good to get up and down four times and get into the swing of what a starter does," he said. "I was able to work through the lineup a couple of times."
Peavy said he took a step forward with the outing. "I was able to repeat a lot of my pitches," he said. "It's nice to see the stuff coming around. It's fun to watch the process build. I was way better than I have been."
TRAINER'S ROOM:
Yu Darvish is expected to return to camp following `Tommy John surgery on Tuesday. LHP Derek Holland (left shoulder stiffness) is scheduled to pitch a `B' game on Saturday morning. Detwiler was sent to have X-Rays taken on his non-throwing wrist after he was hit by a line drive by Posey.
Giants' reliever Sergio Romo (sore shoulder) had a successful batting practice session and will likely make his debut in the next few days. RHP Tim Lincecum said his neck felt better, and if it feels good, he will attempt a bullpen session on Saturday.
UP NEXT:
The Rangers will send RHP Anthony Bass to the mound to start Saturday against the San Diego Padres in Peoria. Bass threw two scoreless innings in his first appearance.
RHP Matt Cain will make his second start of the spring for the Giants when they play the Oakland A's in Mesa on Saturday. Cain threw two perfect innings in his first start.