North Bay residents taking Red Flag Warning seriously, PG&E could shut off power
VACAVILLE, Calif. - The National Weather Service issued a Red Flag Warning in effect for the North Bay mountains from 11 p.m. Tuesday until 8 p.m. Wednesday. The warning indicates hot and windy conditions that could lead to the quick spread of wildfires. The weather service says the biggest threat is in the higher elevations of eastern Napa County.
The forecast is for gusty north winds of 35 to 40 mph in higher terrains in Napa County, and inland parts of the Bay Area could see temperatures in the mid to high 90s Wednesday. The weather service also warns to not burn outdoors during the timeframe of the warning. 
Meanwhile, Pacific Gas and Electric on Tuesday announced they are preparing for a possible Public Safety Power Shutoff (PSPS) on Wednesday, due to weather conditions that could spark wildfires.
PG&E's chief meteorologist said there is the potential for hot and dry wind to strengthen on Wednesday and to push south as the weather system is currently moving through the Pacific Northwest. 
The event starts around 3 a.m. to 4 a.m. Wednesday. Officials predict it will be a short-lived event with winds dying down by the afternoon. 
The utility did not indicate how widespread the outages could be, but said you can find the latest information on their website at pge.com/pspsupdates.
This is the area's first Red Flag Warning since Oct. 2021. 
At Cal Fire's Napa Station No. 25, they say they've done a lot of work and made some changes to help residents be better prepared and protected. 
Sue Wagner says she was there the night of the Glass Fire. "In 2017, the fire burned just right up here across the road from my house. If you've ever been through something like that, it is terrifying. To be woken up in the middle of the night, 15 minutes with the sirens coming down the street."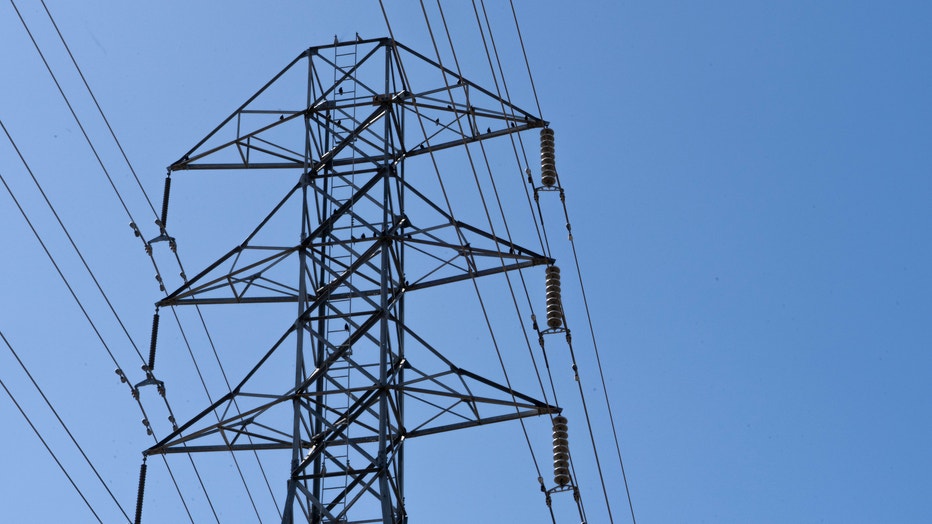 Primary power lines run along Kirker Pass Rd.. in Concord, Calif., on September 20, 2021. (Ray Saint Germain/Bay City News)
That's why she and other Napa County residents take fire season and Red Flag Warnings so seriously. 
"Just last week we removed a trailer that we keep all of our possessions that can't be replaced. And during fire season we take it off site," said Wagner. 
Wagner lives in the Circle Oaks community, northeast of Napa and says she has two backup generators in case PG&E turns off their power as a precaution. 
Cal Fire Deputy Chief Jason Martin in Napa County says they are fully staffed and ready. He says there have been some big changes since the last wildfires. 
The fire agency's crews have been working with Napa County's 20 fire councils and spent millions of dollars in fire safety improvements. 
"We have increased our defensible space inspections. We've increased our public education," Chief Martin says. "What we've done from the Glass and the Lightning Complex [fires] is we've looked at all the dozer lines that we put in for those incidents and we've leveraged them in our fire protection plan to maintain those." 
Martin says keeping those dozer lines clear of debris will mean a faster response if another fire breaks out. 
"Just a couple of days ago they put the dozer lines over here," he says. 
That's a big relief to Wagner and other residents. 
Cal Fire says this week's Red Flag Warning should be a reminder to residents everywhere. 
"Anytime we have Red Flag Warnings, that's an indicator to say, 'Hey, am I prepared? Do I have a to-go bag? Have I checked in with my neighbors? Do I have an escape plan or a plan if I'm separated from my family?'" says Martin.
Wagner says after two evacuations, her family did something new this year and bought a motor home. 
"If it turns out that we have to evacuate because of, god forbid, a fire comes, that's here. We'll probably stay because you can't get a hotel room when everybody else is trying to get one too," she says. 
Cal Fire says they are fully staffed with engines, aircraft and hand crews if a fire does break out. 
Forecasters say cooler weather is expected in the region by the end of the week and through the weekend, with a chance of small amounts of precipitation across the North Bay on Saturday morning and afternoon.
Bay City News contributed to this report. 
Stream KTVU on your TV by downloading Fox Local on your Roku, Amazon Fire, AndroidTV or AppleTV device for free. More details here.