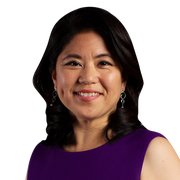 Jana Katsuyama joined KTVU in 2007 and became part of the Ten o'clock News team in 2012. During her time at KTVU, Jana has won multiple Emmy awards and her investigation into paper automobile dealer plate loopholes led to an Assembly bill that changed California's license plate laws so new cars no longer can be on the road without a license plate.
As a journalist, Jana has covered wildfires in the North Bay and southern California, been tear-gassed while reporting on Occupy protests, flown with the Red Barons in an open cockpit plane over Lake Superior, anchored breaking news coverage during the first hours of the Boston Marathon bombing, and did live reports from Tokyo just days after the 2011 Tohoku earthquake and tsunami disaster connecting with Bay Area residents in Japan. 
Prior to working at KTVU, Jana was an anchor and reporter at the ABC affiliate WDTN-TV in Dayton, Ohio. She began her career at the NBC affiliate KBJR-TV in Duluth, Minnesota along Lake Superior. Before entering journalism, Jana worked as an international relations coordinator for the Hiroshima YMCA Medical College in Yonago, Japan. She also was selected to teach English in Japan through the Japanese Foreign Ministry and Ministry of Education's JET Program.
Jana is originally from Dayton, Ohio and graduated with honors from Oberlin College with a double major in English Literature and East Asian Studies. 
Jana loves the natural beauty of the Bay Area and the rich, cultural diversity of the people. She also enjoys volunteering for community organizations, helping the Northern California Cherry Blossom Queen Program, the Japanese American Citizens League, the National Japanese American Historic Society, the Nichibei Foundation, Self-Help for the Elderly and other groups. Jana has been a member of the Asian American Journalists Association since 1999. 
When not working, Jana enjoys bicycling, ballet, playing tennis, and the pursuit of a perfect cup of tea or coffee.
The latest from Jana Katsuyama
A two-year-old boy died in a shooting incident in Vallejo on Friday, according to police.
The Moscone West area was teeming with tech talk Thursday, as the three-day TechCrunch Disrupt convention wrapped up in San Francisco.
A red flag warning due to wildfire weather conditions is set to last from 11 p.m. Wednesday to 5 p.m. Thursday in the mountainous parts of Napa and Sonoma counties.
Thousands of Dreamforce attendees packed Chase Center Wednesday for the Dreamfest benefit concert featuring the Foo Fighters. The event raised an estimated $6.5 million for the UCSF Benioff Children's Hospital.
Fiesta de las Americas brought thousands of people to the heart of San Francisco's Latino Cultural District in the Mission District on Saturday.
 A song celebrating Rosh Hashanah, the start of the Jewish New Year, rang out in the Oakland Hills Friday evening, as a crowd sang and gathered outside for a very unique service that has become a 15-year tradition in the Bay Area. 
The Sunol Glen School Board voted 2-1 Tuesday night in favor of a resolution that bans the display of all flags except for the U.S. and California flags on district property. 
Dreamforce is back in San Francisco, bringing an estimated 40,000 attendees to the city for the annual Salesforce event that lasts from September 12-14th this year.
Friday evening at the Embarcadero Station in San Francisco, riders boarded the train and were able to engage in conversation with BART officials.