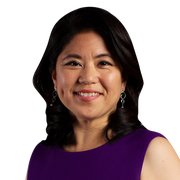 Jana Katsuyama has been with the KTVU news team since 2007, reporting for the Ten O'Clock News and covering events as far away as wildfires in Southern California and the 2011 Touhoku earthquake and Fukushima nuclear disaster, where she reported from Tokyo. She has received multiple Emmy awards and nominations, as well as honors from the Associated Press. She previously worked at WDTN in Dayton, Ohio and KBJR in Duluth Minnesota. She has been an active volunteer, emceeing and working for more than a dozen Bay Area community and non-profit organizations, as well as her alma mater Oberlin College. She is a member of the Asian American Journalists Association and a former board member of the National Association of Television Arts and Sciences Northern California and Ohio chapters.
The latest from Jana Katsuyama
Cal-Fire officials say their resources were also stretched thin as they responded to two large vegetation fires that threatened structures near Gilroy and Morgan Hill. 
Many cities are finding creative ways, thought to bring the community together.
The U.S. added 4.8 million jobs to the economy between mid-May and mid-June, according to the Labor Department's jobs report Thursday.
Nineteen craft breweries in the region have joined the nationwide "Black is Beautiful" beer initiative. It has grown from one brewer's call for social justice into an international movement. The idea took off, with more than 900 breweries in all 50 states and 17 countries now taking up the cause.
Zuckerberg announced that the company will make policy changes "to connect people with authoritative information about voting, crack down on voter suppression, and fight hate speech."
The director of the Centers for Disease Control is warning Americans to remain vigilant during the July Fourth holiday, with the nation seeing an increase in coronavirus cases, just as a new poll shows virus fatigue setting in.
The show of support is for a neighbor James Juanillo who saw in recent days the power of words to heal and hurt.
Mayor Will Lee says it won't be the first time the issue has come up and he welcomes dialogue in the city of 8,000 residents. He says there is a big difference between the city and the military installation.
The closing bell ended with the Dow Jones Industrial Average down 6.9% Thursday, with a 1,861-point plunge that left all Dow companies in the red, and left investors with whiplash.