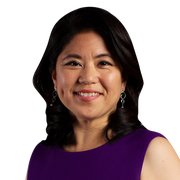 Jana Katsuyama has been with the KTVU news team since 2007, reporting for the Ten O'Clock News and covering events as far away as wildfires in Southern California and the 2011 Touhoku earthquake and Fukushima nuclear disaster, where she reported from Tokyo. She has received multiple Emmy awards and nominations, as well as honors from the Associated Press. She previously worked at WDTN in Dayton, Ohio and KBJR in Duluth Minnesota. She has been an active volunteer, emceeing and working for more than a dozen Bay Area community and non-profit organizations, as well as her alma mater Oberlin College. She is a member of the Asian American Journalists Association and a former board member of the National Association of Television Arts and Sciences Northern California and Ohio chapters.
The latest from Jana Katsuyama
Oakland Fire Department made short work of a 2-alarm condo-complex fire near the waterfront at Jack London Square Friday night. No one was injured.
At a news conference Friday evening, Johnson showed photos where inspectors found the high winds had blown tree branches into power lines at 31 locations: 21 spots in the East Bay and South Bay, 4 in the North Bay, and 6 in the Sierra foothills.