PG&E tells CPUC winds in Butte Co. didn't warrant pre-fire power shutoff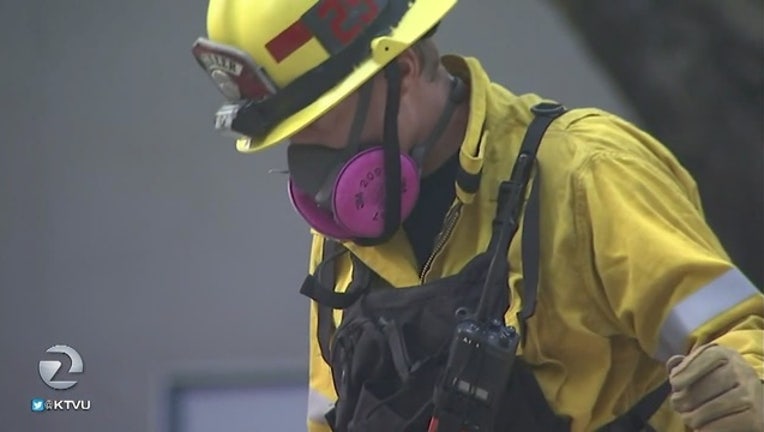 SAN FRANCISCO (BCN) PG&E Co. has told the California Public Utilities Commission that it didn't turn off electricity in the area of the deadly Camp Fire in Butte County on the day the blaze began because it had forecast that winds had diminished below the level that would trigger a shutoff.
PG&E submitted the report to the San Francisco-based commission Tuesday in conjunction with recent rules requiring utilities to tell the agency about power shutoffs and shutoff warnings to customers during fire danger.
The utility said in its report that by 1 p.m. on Nov. 8, the day the fire started, "winds were decreasing, and conditions were no longer forecast to approach Public Safety Power Shutoff criteria."
"Based on the forecasted information, PG&E no longer anticipated a possible need to de-energize," the report said. 
The Camp Fire was first reported at 6:33 a.m. on Nov. 8 in the Sierra Nevada foothills community of Pulga near Camp Creek Road. It quickly spread southwest, and by 8 a.m. reached the town of Paradise, which was nearly completely destroyed that day.
The fire consumed 153,336 acres and more than 18,000 structures before being fully contained on Nov. 25, according to Cal Fire. As of Tuesday, it had killed 88 people and 158 others remained unaccounted for according to the Butte County Sheriff's Office. 
Sustained winds of 25 miles per hour and gusts of 45 miles per hour would trigger turning off electricity, the report said. Other factors include low humidity and dry fuel.
PG&E said in the report that on Nov. 6, there were forecasts of winds 20 to 25 miles per hour and gusts of 40 to 45 miles per hour -- close to the limit -- in certain locations.
As a result, it notified 70,000 customers in parts of nine counties, including Butte, on Nov. 6 of a possible power shutdown.
The next day, "weather conditions stayed consistent, nearing but not reaching forecasted levels that would warrant temporarily turning off power for customer safety," the report said.
Then, on Nov. 8, forecasts showed a decrease by 1 p.m. and P&GE then informed customers and local officials there would be no shutoff, the utility said. 
The report notes, "As we have expressed previously, turning off power to our customers is a decision that does not come easily, is not made lightly, and will be exercised only as a last resort."
PG&E has also sent the CPUC two incident reports of power line outages on Nov. 8. The first incident was an outage on a high-voltage transmission line in Pulga at 6:15 a.m. on Nov. 8. The report says that on that afternoon, a PG&E aerial patrol saw damage to a transmission tower one mile northeast of Pulga.  
The second incident reported was an outage on a lower-voltage line in the community of Concow, located between Pulga and Paradise, at 6:45 a.m. on Nov. 8. 
The CPUC has said those reports will be incorporated into staff investigations of whether electricity utilities complied with rules and regulations in fire areas in both Northern and Southern California.
Cal Fire determines the causes of fires while the CPUC looks at compliance with rules.
CPUC spokesman Christopher Chow said a staff investigation is an informal preliminary step. A formal investigation, which could result in penalties, would occur if the staff recommends one and the five-member commission votes to initiate such a probe.