Pilot killed in crash on BART tracks ID'd as longtime Bay Area resident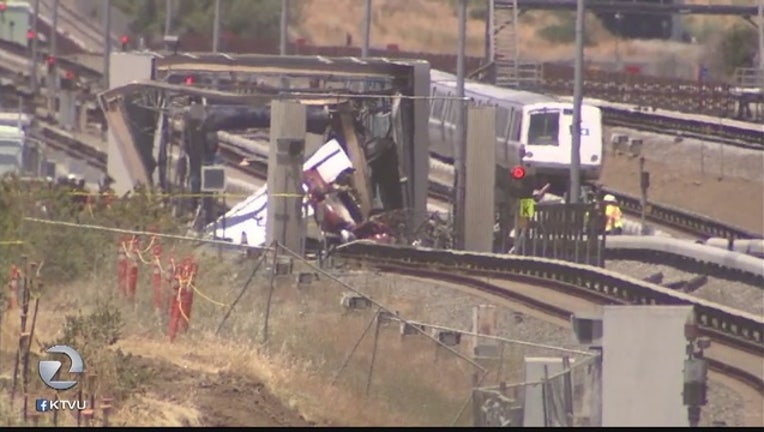 article
HAYWARD (BCN)— A pilot who died when his small plane crashed on BART tracks in Hayward on Sunday was identified today as a long-time Bay Area resident who works for a Korea-based semiconductor manufacturer.
   
Robert Pursel Jr. was the pilot of the Piper PA-23-150 that crashed and caught fire on transfer tracks near BART's Hayward Maintenance Complex just before noon on Sunday. He worked as the director of investor relations at MagnaChip Semiconductor Corp., a company spokesman confirmed today.
   
"How tragic... It's true that our dear colleague Robert Pursel died in a plane crash on June 19th," MagnaChip spokesman Chankeun Park said in an email. "This is mind-boggling. God bless his family."
   
Pursel was the only person on board the plane when it crashed. The
Alameda County coroner's bureau has not officially confirmed the identity of
the pilot and is working on checking his dental records.
   
FAA records indicate that Pursel had addresses in Hawaii and Fremont and his personal website said he traveled between Silicon Valley, Korea and Japan. He worked for MagnaChip for the last five years.
  
A former lieutenant in the U.S. Navy, Pursel has worked in the tech industry since 1995. He attended University of California at Berkeley and Santa Clara University and is a certified flight instructor, according to his LinkedIn profile.
Pursel had departed from Hayward Executive Airport, about 4 miles from the crash site, and had apparently planned to return there, according to FAA spokesman Ian Gregor. The FAA and the National Transportation Safety Board are investigating why the plane crashed.
   
NTSB officials said an investigator with the agency went to the crash scene on Sunday and returned today. The investigators did an initial documentation of the accident site and interviewed one witness who came forward. The cause of the crash remains under investigation.
   
The small fire that broke out when the plane crashed prompted a response from the Alameda County and Hayward fire departments. BART service was shut down between the South Hayward and Fremont stations for more than two hours, according to BART officials.
   
The plane damaged the BART tracks, some of the surrounding equipment and a fence.
   
BART service resumed in time to transport sports fans leaving an Oakland A's baseball game at the Oakland Coliseum and arriving at Game 7 of the NBA Finals between the Golden State Warriors and the Cleveland Cavaliers at Oracle Arena with only moderate delays.