Traffic reopens at LAX after reports of suspicious vehicle
LOS ANGELES - The departure level of the central terminal at the Los Angeles International Airport was briefly closed Wednesday evening while police responded to reports of a suspicious vehicle. Travelers are now being allowed back into the terminal.
The airport originally reported the suspicious vehicle, seemingly an abandoned U-Haul truck seen from SkyFOX above the scene, shortly after 5 p.m. Wednesday. 
Sources told FOX 11's Christine Devine that the vehicle had been outside the terminal since at least 4:30 p.m.
LAPD bomb squad responded to the airport and cleared the vehicle shortly after 6 p.m, according to LAX. 
SUGGESTED: LAX was the world's fifth-busiest airport in 2021
Traffic was rerouted from the terminal during the investigation, causing massive backups throughout the area, as well as in the airport itself. Passengers shared their frustrations with FOX 11.
"It was just jam-packed and back to back. It took us 45 minutes to get into the airport grounds," said David. 
"All of the cars were hectic and backed up. I'm here every week so I didn't expect that [a bomb threat scare]. That's kind of crazy," said Zack.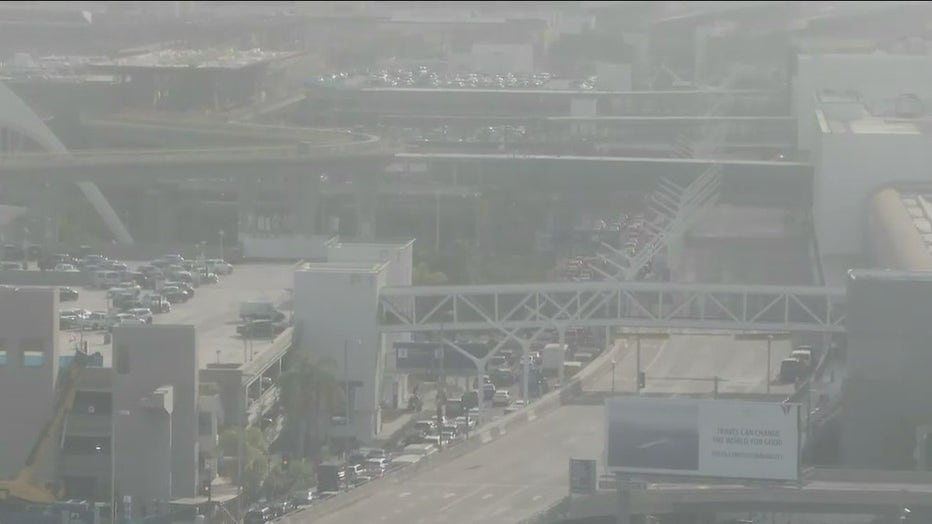 Josh and Cate, who are traveling with a group to Tahiti for a humanitarian trip, were in the middle of the chaos during the terminal closure. 
"Once we walked out and we started walking towards this terminal because we're taking an international flight, there were like bunches of people everywhere and we just thought oh they're waiting for their terminal, waiting to get into their flight and all of a sudden this policeman starts yelling at us saying get back!" said Cate.

They said other people started talking about what was happening. 

"A girl from Ireland told us there was a bomb threat. We had no idea what was going on. A French couple was screaming bomb at us so we're backing up," said Josh and Cate. 

They said it was very unusual, and not how they were expecting to start their trip. 
Traffic backup persisted long after the threat had been cleared and the top levels of the terminals were back open to traffic, but eventually returned to normal congestion levels.