Police: Suspect armed in Napa officer-involved shooting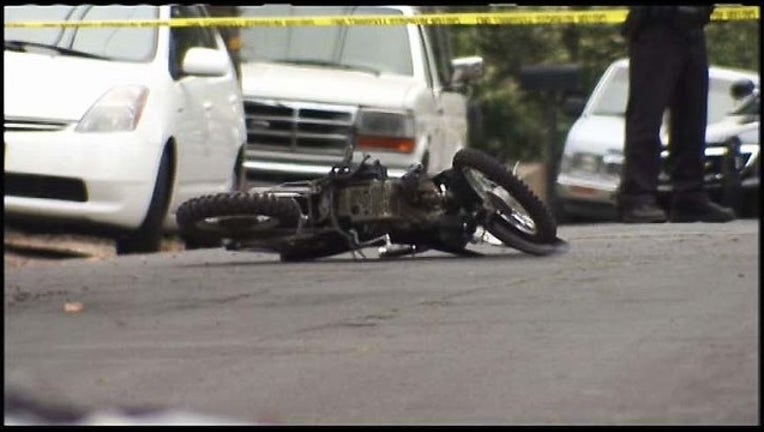 NAPA, Calif. (KTVU and wires) --The man killed by a police officer in Napa's Alta Heights area has been identified as 41-year-old James Richard Jimenez of Napa, authorities said Saturday.
Jimenez was on his motorcycle when he sped by officers who were about to serve a search warrant for drugs and firearms shortly before 5 p.m. at a home in the 1400 block of East Avenue, police said.
Four officers were assigned to serve a warrant for narcotics at the same home a month before, according to police.
Jimenez was found to have an extensive criminal history that includes acts of violence, narcotic violations, and gang affiliation.
He drove past the officers on a motorcycle before the officers served the warrant. The officers activated their emergency lights and siren and followed Jimenez as he sped away from them.
Jimenez lost control of the motorcycle in the area of Spring Street and Hill Avenue, police said.
The officers approached the suspect and yelled "show us your hands" multiple times.
The suspect allegedly reached into his midsection for what officers recognized as a handgun, police said.
One of the officers fired three shots at Jimenez and one of the bullets struck Jimenez's torso.
The officers placed him in handcuffs and performed CPR and other life-saving measures.
Jimenez was transported to Queen of the Valley Medical Center where he died of his injuries.
Officers recovered from Jimenez a handgun, suspected methamphetamine and "a substantial amount of cash," police said.
The four officers, a sergeant and three officers, were placed on paid administrative leave, per department protocol.
Police have not identified the officer who shot at Jimenez as of Saturday afternoon.
The Napa County Sheriff's Office is conducting an investigation into the officer-involved shooting, per county protocol.