Pres. Trump takes aim at homeless crisis in San Francisco but offers no solutions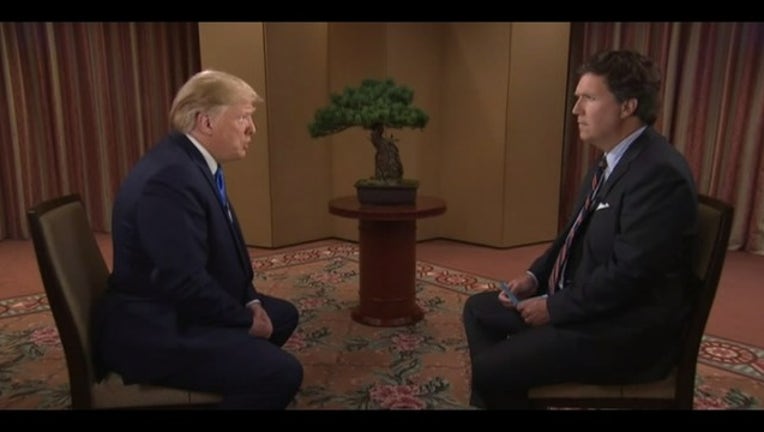 OSAKA, Japan (KTVU) - President Trump is calling out San Francisco for its homeless problem, describing the situation as "really terrible" and "inappropriate," as he suggested his administration may take action to clean up the streets.
"I'm looking at it very seriously, and we're doing some other things," he told Fox News host Tucker Carlson in an exclusive interview during his visit to Japan for the G20 summit last week.
Carlson asked the president how he viewed the differences he saw on the streets in places like Osaka, where the summit took place, versus those of U.S. cities like New York, Los Angeles, and San Francisco, which the conservative political commentator said have a "major problem with filth."
The president responded by saying, "It's disgraceful... but we're looking at it very seriously because you can't do that. You can't have, where police officers are getting sick just by walking the beat."
He did acknowledge many of those living on the streets were struggling with mental illness but suggested it's affecting healthy working people as well.
"Well some of them have mental problems, where they don't even know they're living that way. In fact perhaps they like living that way," the president said. "They cant' do that. We cannot ruin our cites. And you have people that work in those cities. They work in office buildings, and to get into the building they have to walk through a scene that nobody would have believed possible three years ago," he added. 
The president also made a claim that the homeless issue became a serious problem only in recent years. "It's a phenomena that started two years ago," he said.
Trump spoke specifically of San Francisco, noting that he himself has personal ties to the city.
"I own property in San Francisco. So I don't care, except it was so beautiful. And now areas that you used to think as being, you know really something, very special, you take a look  at what's going in San Francisco it's really terrible," the president said.
And while he explained that his administration is looking for ways to get involved and to fix the problem of homeless and blight, he did not offer any concrete plans for how that would happen.
"We're looking at it very seriously. We may intercede. We may do something to get that whole thing cleaned up," Trump said. But at the same time he added that it shouldn't fall on the federal government to take on the issue.
"We're really not very equipped as a government to be doing that kind of work. That's not really the kind of work the government should be doing," he said, adding, "We've never had this in our lives before in our country." 
He did take aim at what he called the "liberal establishment," suggesting those on the left could be to blame, as he also made mention of sanctuary cities.  
"I don't know if they're afraid of votes. I don't know if they really believe that this should be taking place, but it's a terrible thing that's taking place," he said. "But if you look at some of these, they're usually sanctuary cities, run by very liberal people and the states are run by very liberal people," he added.
He charged that the leaders of those cities and as well as the states are hurting the way of life in the U.S.
"But the thing that nobody can figure out is, do these governors or mayors, do they really think that this is a positive?" he asked. "Do they really think that this is okay, because it's not. It's destroying their city and it's destroying a whole way of life, and it's not our country. It's not what our country's all about."
The president's comments follow recent figures from Los Angeles County that said the number of homeless people there increased by about 12 percent over the past year.
Recent figures also show that over the last two years, San Francisco saw a 17 percent rise in the number of homeless people in the city. 
Alameda County saw a striking 43 percent rise during that same period. 
Governor Gavin Newsom has made homelessness a central issue of his administration, offering up specific plans and earmarking money to combat the problem.
Saying it's hit crisis status, he's established a new task force to tackle the issue.
The governor also noted that for far too long, the state has left it up to local governments to find solutions, and said he's committed to changing that, pledging $1 billion in new funding that will be parceled out to some of California's biggest cities and counties for homeless initiatives.
Earlier this year, the Public Policy Institute of California released figures that showed the the state's homeless population accounts for nearly a quarter of the national total, with about 130,000 people in the state living on the streets or in shelters.
California's rate of homelessness was 33 per 10,000 residents, making it among the highest in the country.

This story was reported from Oakland, Calif.