Princess cruise ship being cleaned after norovirus outbreak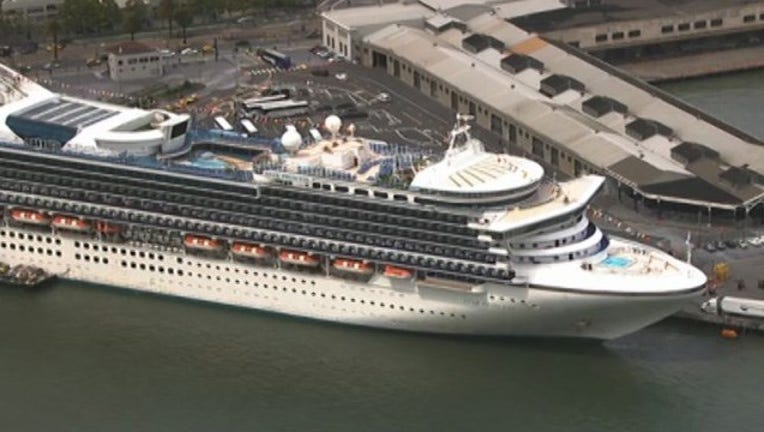 article
"It was a little scary," said passenger Vicki Samo, who lives in Sausalito. "I was wiping everything down with alcohol, all the public areas that I was touching."
Crews mopped and cleaned the deck Thursday as passengers made their way off the ship and into taxicabs at Pier 27.
Norovirus symptoms include vomiting and diarrhea. Departing passengers told us the first warning of trouble came two days into the voyage towards Hawaii.
"When we were in line to get food or something, we heard that elderly people got really, really sick," said one passenger who declined to give her name.
"We were told it was norovirus," said Pat Hoffman of Las Vegas. "But after about three or four days, they said that they had it under control."
The Centers for Disease Control and Prevention said 135 of about 2,500 passengers became ill. 16 crew members were also stricken.
"The captain came on over the loudspeaker and said we're going to red alert," said Samo. "And a whole lot of rooms had to be specially cleaned and quarantined."
Adding to the problem were rough waters that made some passengers seasick and confused others about the cause of the illness.
"It was a panic about nothing," said passenger James Conway. "It was just a simple cold or something like that."
But specimens collected and tested onboard during the cruise were positive for norovirus. In a statement, Princess Cruises said "through our response procedures developed in conjunction with the CDC, new case presentations trended downward and we did not have any ill guests by the end of the cruise."
CDC health officers and epidemiologists boarded the Star Princess in San Francisco to evaluate the outbreak and response. The Norovirus samples are being sent to a CDC lab for further testing.
Some passengers praised the work done by the crew to keep the virus from spreading.
"A lot of activities were cancelled, like the cookies and milk at 3:30. And anything where people would be touching the same foods," said Samo. "They checked on the people in the quarantine every two hours to make sure they were staying in their cabins and not risking everybody else, which I really appreciated."