Pro-Trump flag gets man banned from Disneyland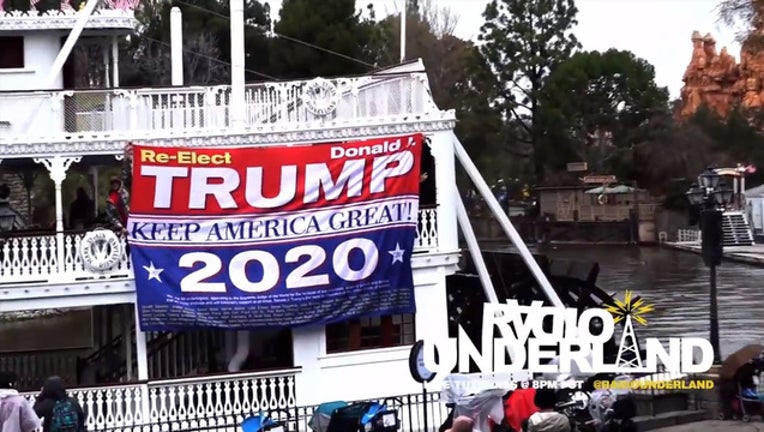 article
ANAHEIM, Calif. - One Disneyland visitor will not be returning to "the happiest place on earth" after he was kicked out of the park Wednesday afternoon following an unfurling of a large pro-Trump flag on the side of the Mark Twain riverboat.
The man identified himself as Dion Cini as he streamed live on Facebook moments before the unfurling. The video shows Cini and another male companion taking out a "Re-elect Trump 2020" flag from a bag, unfolding it, and draping it over the side of the riverboat.
The incident was also captured on video by a media group calling themselves Radio Underland and posted it to YouTube.
Cini was contacted by Disneyland security guards and a manager who were waiting for him on the dock as Cini continued live streaming the event. The stream finally stops when Cini is taken to the backstage area where he apparently met with Anaheim police.
Although police did not take anyone into custody, Cini posted on Facebook after the incident that he had been banned from Disneyland.
Disneyland released the following statement:
A list of park rules is available on the Disneyland website. The park prohibits the use of any "flag, banner or sign for commercial purposes, or to incite a crowd" and also engage "in any unsafe act or other act that may impede the operation of the Park."
Disney says Wednesday's incident was not about the content of the flag or political issue but about not repeatedly following Park rules.
"The other thing important here is Guests don't come to Disney expecting to have their trip impacted by an individual's actions like this. This gentleman was disrupting their experiences and family memories," said a Disney spokesperson.