Protestors want investigation into police response at Dolores Park Hill Bomb event
SAN FRANCISCO - Dozens of protesters marched to San Francisco Police Department's Mission Station Sunday, demanding an investigation into the arrests and citations of more than 100 people during the "hill bomb" skateboard event at Dolores Park. 
"It is immoral. It is wrong. And there needs to be accountability for what happened there," said Kevin Ortiz, with the SF Latinx Democratic Club. 
The annual non-sanctioned event took place Saturday. It typically draws large crowds. Skateboarders ride down a dangerously steep section of Dolores Street at high speeds. 
But before the event could get started, police had up barricades. Lines of officers in riot gear blocked the street and gave dispersal orders. 
It didn't take long for chaos to ensue. Video shows skaters clashing with police. People are seen throwing bottles and lit fireworks at officers. 
A group of people spray-painted occupied Muni light rail trains and vandalized other property. 
Police arrested 32 adults for inciting a riot and cited 81 juveniles.
In a lengthy press release, police explained officers were there to address public safety concerns and crowd control. They said officers were assaulted, and a sergeant suffered lacerations to his face. 
In a statement, Chief Bill Scott wrote, "This dangerous and unlawful behavior put members of the public and our officers at risk of serious injury or worse."
But protesters take issue with the treatment of those young people who were detained and said the police response was excessive. 
"It's an egregious use of force, we condemn it. We want an investigation into who made the orders," said Jeffrey Kwong with the Harvey Milk LGBTQ Democratic Club. Kwong said police should practice de-escalation techniques. "They should have done their groundwork. They should have done the community policing but instead what we see are images of police in riot gear and batons rushing at skateboarders, teenagers."
"The SFPD militarized and kind of just kicked everyone out of the entire hill," said San Francisco skateboarder Finn Deuss. 
Deuss accused police of harassing the group and said the vandalism and other recklessness was in response to how they were being treated. 
"The police were out here dealing with a bunch of skaters while other crimes were going on in San Francisco that police weren't showing up to," said Deuss. 
The Hill Bomb event has led to injuries and even one death in the past – when in 2020 a bicyclist was killed after colliding with a skater.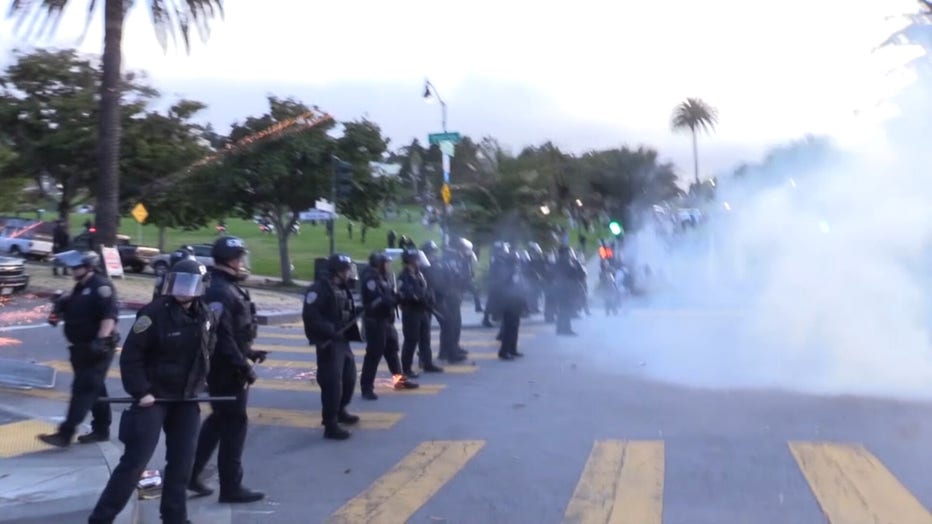 Smoke or gas is thrown at the Dolores Park Hill Bomb event. July 8, 2023 Photo: AIOFilmz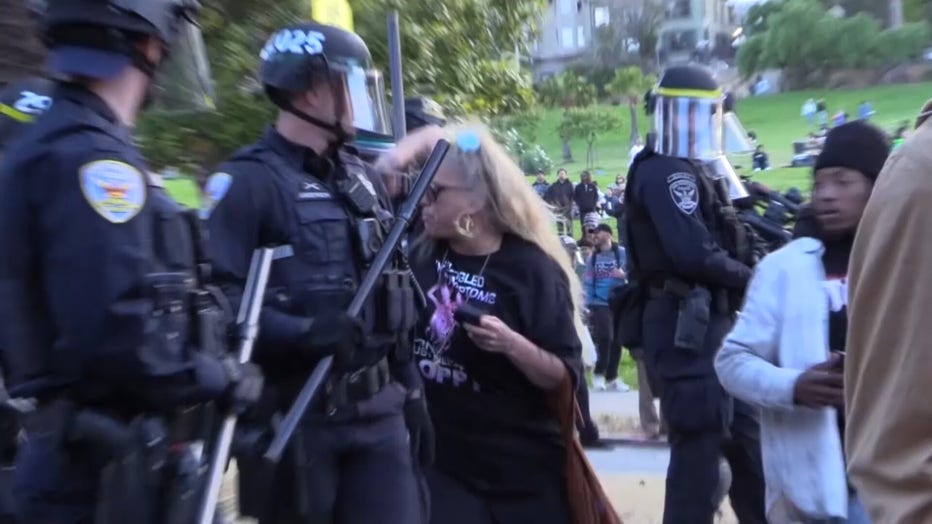 A large police presence appears at the Dolores Park Hill Bomb event. July 8, 2023 Photo: AIOFilmz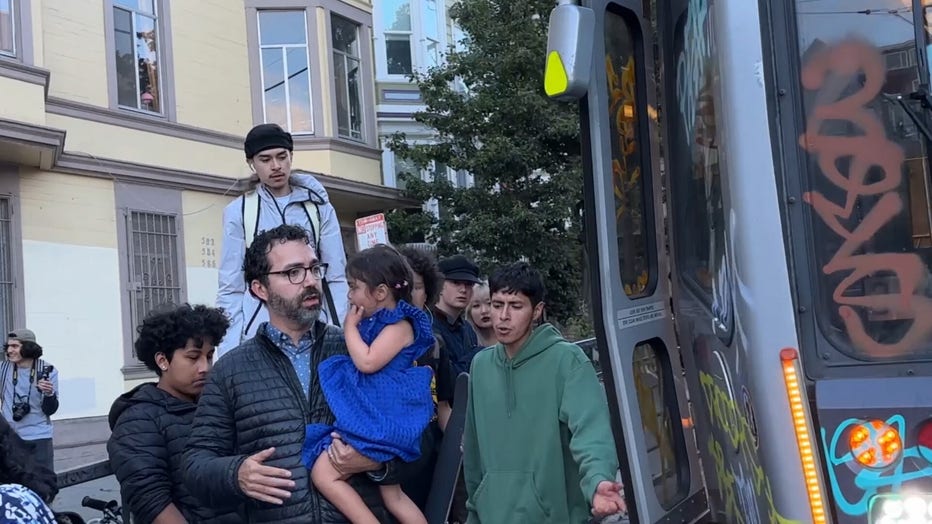 A man holds a child near a Muni bus at the Dolores Park Hill Bomb skateboarding event. July 8, 2023 Photo: AIOFilmz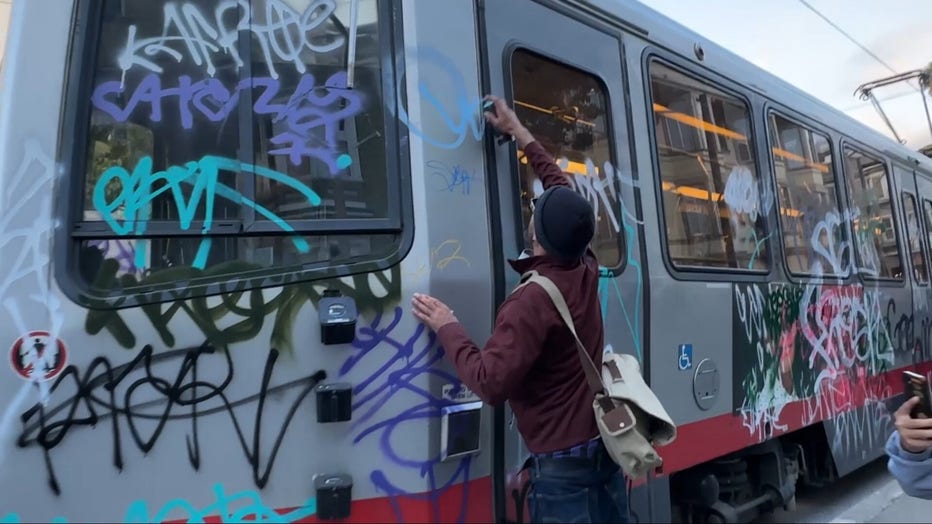 A person tags a Muni bus at the Dolores Hill Bomb skateboard event. July 8, 2023 Photo: AIOFilmz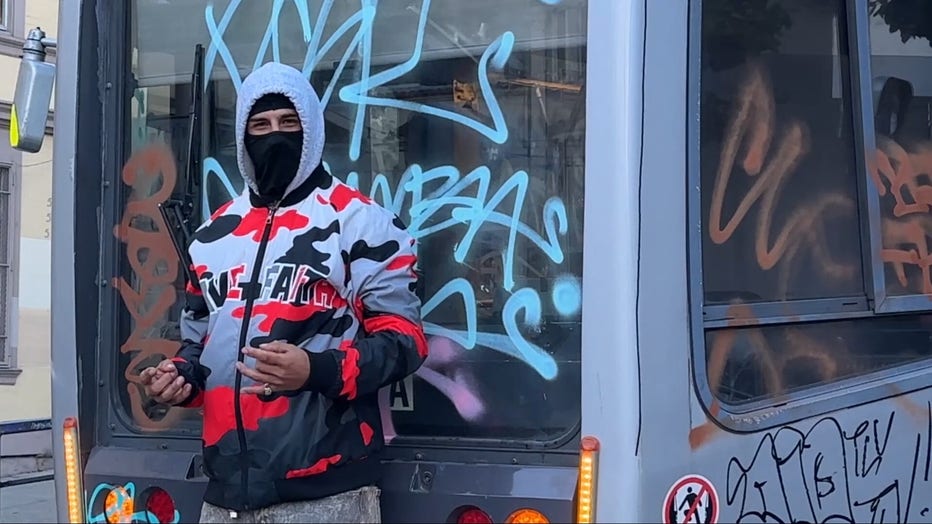 A masked person stands in front of a vandalized Muni bus at the Dolores Hill Bomb skateboard event. July 8, 2023