Putin orders cease-fire in Ukraine for Orthodox Christmas; Ukraine won't take part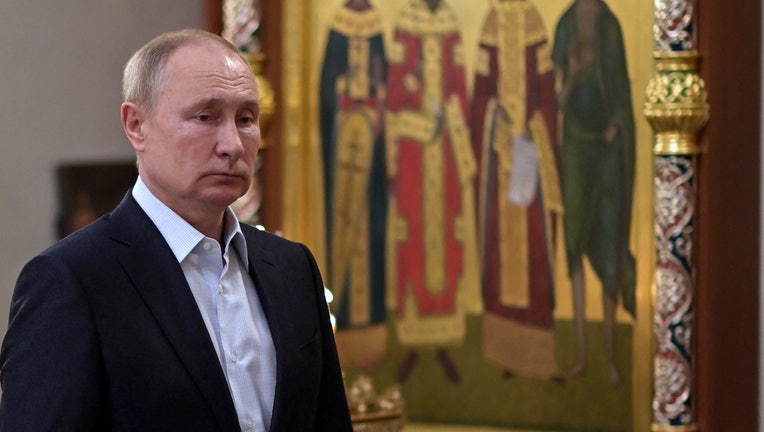 article
MOSCOW - Russian President Vladimir Putin on Thursday ordered Moscow's armed forces to observe a 36-hour cease-fire in Ukraine this weekend for the Russian Orthodox Christmas holiday, the first such sweeping truce move in the nearly 11-month-old war. Kyiv indicated it won't follow suit.
Putin did not appear to make his cease-fire order conditional on a Ukrainian agreement to follow suit, and it wasn't clear whether hostilities would actually halt on the 1,100-kilometer (684-mile) front line. Ukrainian officials have previously dismissed Russian peace moves as playing for time to regroup their forces and prepare for additional attacks.
At various points during the war that started on Feb. 24, Russian authorities have ordered limited, local truces to allow evacuations of civilians or other humanitarian purposes. Thursday's order was the first time Putin directed his troops to observe a cease-fire throughout Ukraine.
"Based on the fact that a large number of citizens professing Orthodoxy live in the combat areas, we call on the Ukrainian side to declare a cease-fire and give them the opportunity to attend services on Christmas Eve, as well as on the Day of the Nativity of Christ," according to Putin's order, addressed to Defense Minister Sergei Shoigu and published on the Kremlin's website.
READ MORE: Drone advances in Ukraine could bring dawn of killer robots
Putin's order didn't specify whether it would apply to both offensive and defensive operations. It wasn't clear, for example, whether Russia would strike back if Ukraine kept fighting.
Ukrainian officials dismissed Putin's move.
Presidential adviser Mykhailo Podolyak tweeted that Russian forces "must leave the occupied territories -- only then will it have a 'temporary truce.' Keep hypocrisy to yourself."
Ukraine's National Security Council chief Oleksiy Danilov told Ukrainian TV: "We will not negotiate any truces with them."
He also tweeted: "What does a bunch of little Kremlin devils have to do with the Christian holiday of Christmas? Who will believe an abomination that kills children, fires at maternity homes and tortures prisoners? A cease-fire? Lies and hypocrisy. We will bite you in the singing silence of the Ukrainian night."
U.S. President Joe Biden said it was "interesting" that Putin was ready to bomb hospitals, nurseries and churches on Christmas and New Year's. "I think he's trying to find some oxygen," he said, without elaborating.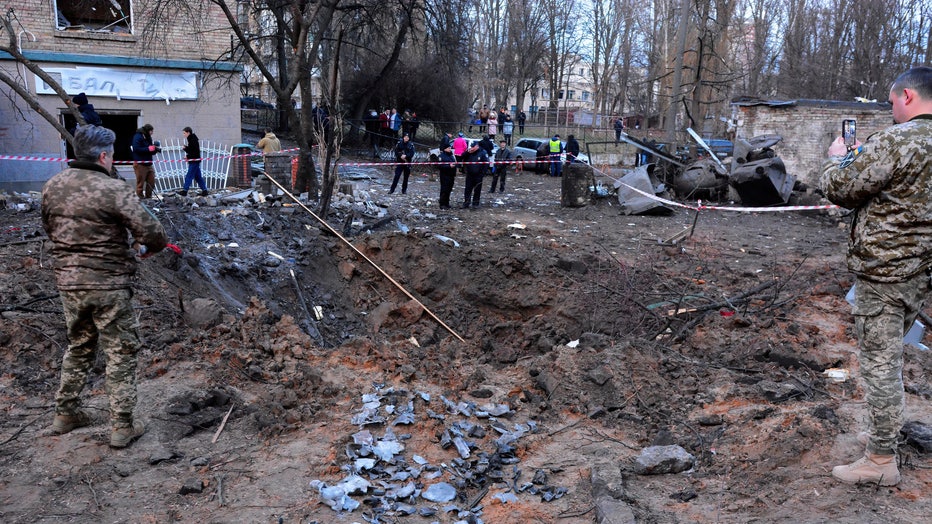 Military experts examine missile debris near the site of a missile explosion in a residential area in Kyiv. On New Year's Eve, (Photo by Aleksandr Gusev/SOPA Images/LightRocket via Getty Images)
State Department spokesman Ned Price said Washington had "little faith in the intentions behind this announcement," adding that Kremlin officials "have given us no reason to take anything that they offer at face value."
"It does not appear to be a strategic change in in Russia's plan or its approach," he said. "It appears to be a bid to continue to do what it has inflicted upon the Ukrainian people for nearly a year now as it seeks to rest, refit, regroup, and ultimately reattack."
U.N. spokesman Stephane Dujarric welcomed the move but said it "will not replace a just peace in line with the U.N. Charter and International law."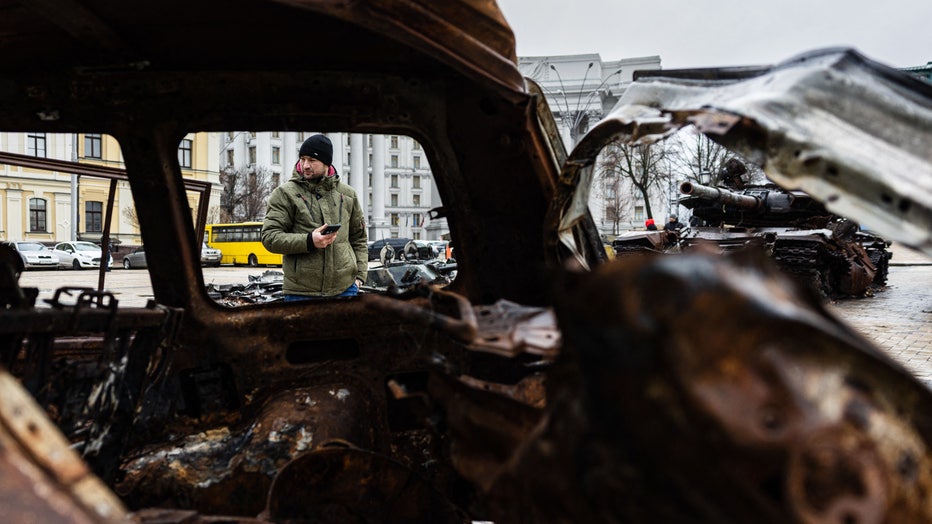 A pedestrian looks at the destroyed Russian military vehicles at an open air exhibition of destroyed Russian equipment in Kyiv on January 5, 2023. (Photo by SAMEER AL-DOUMY/AFP via Getty Images)
Putin acted at the suggestion of the head of the Russian Orthodox Church, Patriarch Kirill, who proposed a truce from noon Friday through midnight Saturday, local time. The Russian Orthodox Church, which uses the ancient Julian calendar, celebrates Christmas on Jan. 7 — later than the Gregorian calendar — although some Christians in Ukraine also mark the holiday on that date.
Kirill has previously called the war part of Russia's "metaphysical struggle" to prevent a Western liberal ideological encroachment.
President Volodymyr Zelenskyy had proposed a Russian troop withdrawal earlier, before Dec. 25, but Moscow rejected it.
READ MORE: Ukraine, hit on New Year by Russian missiles, wakes up to grim 2023
Political analyst Tatyana Stanovaya said Putin's cease-fire order is intended to make him look reasonable. It "fits well into Putin's logic, in which Russia is acting on the right side of history and fighting for justice," she said.
"We must not forget that in this war, Putin feels like a 'good guy,' doing good not only for himself and the 'brotherly nations,' but also for the world he's freeing from the 'hegemony' of the United States," Stanovaya, founder of the independent R.Politik think tank, wrote on Telegram.
She also linked Putin's move to Ukrainian forces' recent strike on Makiivka that killed at least 89 Russian servicemen. "He really doesn't want to get something like that for Christmas," she said.
Ukrainians reacted with suspicion to Putin's announcement.
"Frankly speaking, the 8th of March (Women's Day), (Ukraine's) independence day, Christmas (Dec. 25) and the New Year, there were no cease-fires. Why should there be one now?" said Sophiia Romanovska, a 21-year-old student who fled Mariupol for Kyiv, peppering her comments with expletives.
Putin issued the truce order after Turkish President Recep Tayyip Erdogan urged him in a phone call to implement a "unilateral cease-fire," according to the Turkish president's office. The Kremlin said Putin "reaffirmed Russia's openness to a serious dialogue" with Ukrainian authorities.
Erdogan also told Zelenskyy later by phone that Turkey was ready to mediate a "lasting peace." Erdogan has made such offers frequently, helped broker a deal allowing Ukraine to export millions of tons of grain, and has facilitated prisoner swaps.
READ MORE: Russia says phone use allowed Ukraine to target its troops
Russia's professed readiness for peace talks came with the usual preconditions: that "Kyiv authorities fulfill the well-known and repeatedly stated demands and recognize new territorial realities," the Kremlin said, referring to Moscow's insistence that Ukraine recognize Crimea and other illegally seized Ukrainian territory as part of Russia.
Previous attempts at talks have failed over Moscow's territorial demands because Ukraine insists Russia withdraw from occupied areas.
Coupled with talk of diplomacy were new pledges Thursday of military support for Ukraine.
Germany said it would match a U.S. announcement last month to supply Ukraine with a Patriot missile battery, the most advanced surface-to-air missile system the West has provided to Kyiv.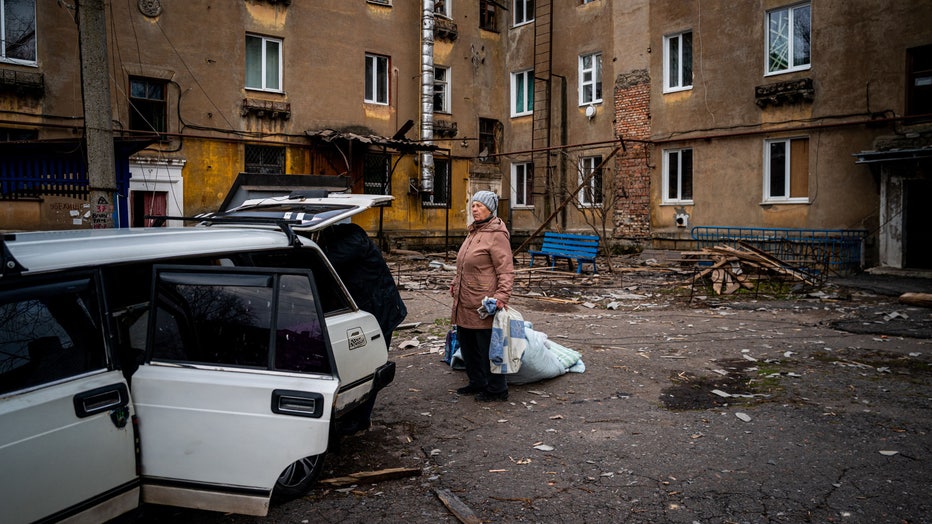 Local residents load belongings in their car next to a damaged residential building in Chasiv Yar, eastern Ukraine, on January 5, 2023, amid the Russian invasion of Ukraine. (Photo by Dimitar DILKOFF / AFP) (Photo by DIMITAR DILKOFF/AFP via Getty Ima
Germany also said it would supply Marder armored personnel carriers, and France said it will hold talks with Ukraine on delivery of armored combat vehicles that can destroy tanks.
U.S. officials said they will send Ukraine nearly $3 billion in military aid in a massive new package that will for the first time include several dozen Bradley fighting vehicles. The aid is aimed at getting as much to Ukrainian forces as possible before spring sets in and fighting increases.
An announcement is expected Friday, said the officials, who spoke on condition of anonymity because details of the package have not been announced.
The Kremlin says the West's supply of weapons to Ukraine is prolonging the conflict.
While more weapons arrive, the battlefield situation appears to have settled into a stalemate, increasingly a war of attrition. As winter sets in, troop and equipment mobility is more limited.
In the latest fighting, Kyrylo Tymoshenko, deputy head of the Ukrainian presidential office, said at least five civilians were killed and eight wounded by Russian shelling in the previous 24 hours.
An intense battle has left 60% of the eastern city of Bakhmut in ruins, Donetsk Gov. Pavlo Kyrylenko said. Ukrainian defenders appear to be holding the Russians back. Taking the city in the Donbas region, an expansive industrial area bordering Russia, would not only give Putin a major battlefield gain after months of setbacks, but would rupture Ukraine's supply lines and allow Moscow's forces to press on toward key Ukrainian strongholds in Donetsk.
In what appeared to be a move to entice more men to join the fight, the first convicts recruited for battle by the Wagner Group, a Russian private military contractor, received a promised government pardon after serving six months on the front line.
A video the state RIA Novosti news agency released showed Yevgeny Prigozhin, the Wagner Group's millionaire owner, shaking hands with about 20 pardoned men.