Rally for Richmond activist who was arrested for 'biking while black'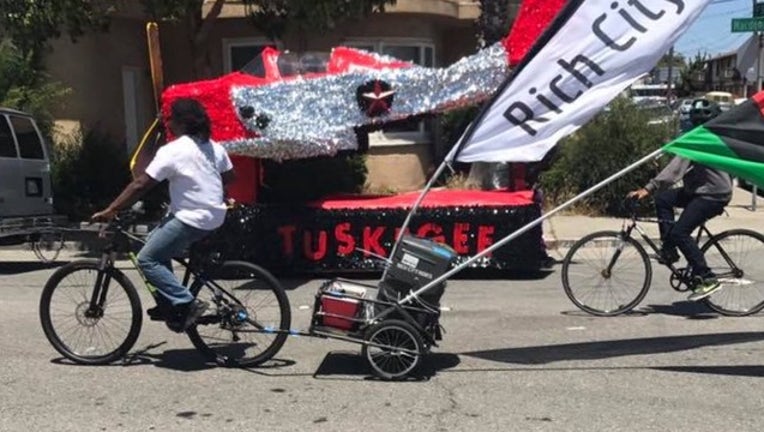 OAKLAND, Calif. (BCNKTVU) - A small rally was held Friday morning for a man many say was arrested simply because he was "biking while black."
Though the Alameda County District Attorney's Office says prosecutors will not charge Najari Smith, a Richmond bicycling activist who was arrested because police said his music was too loud, members of Rich City Rides came together to speak out against initial arrest in front of the Oakland Wiley W. Manuel courthouse. 
Two or three dozen people, many on bicycles, came to hear Smith talk about the unfair treatment for people of color and bias prevalent in this country. He posted video on the Facebook page for the bike coalition he founded, Rich City RIDES.  
"I'm committed to be part of that change," he said. "When we become the answer."
Smith, 39, was arrested Aug. 3 shortly after the monthly First Friday art festival on Telegraph Avenue. The event was titled, ironically, "Black Unity Ride Against Racism in Oakland." And it was meant to be a "healing ride" to honor 18-year-old Nia Wilson, who was stabbed to death outside the MacArthur BART station in Oakland on July 22.
Police said he was impeding traffic and playing music too loudly and failed to provide identification, and he was jailed for two days. Smith told KTVU this month that he immediately got off his bike, put his hands in the air and said, "Yo, can you explain this to me a little bit more?" He added, "there was no discussion."
On Monday, District Attorney Nancy O'Malley announced she would not file charges against Smith after Richmond Mayor Tom Butt sent her a letter on Smith's behalf. In addition, more than 1,000 people signed a petition urging charges to be dropped,
 "This looks like a case of bicycling while black," Butt said in his letter to O'Malley.  "Najari Smith is an extremely thoughtful, collaborative and caring person," Butt said in his letter. "He is widely respected throughout the Richmond community."
Civil rights attorney Walter Riley has agreed to represent Smith for free.
According to Oakland police spokeswoman Felicia Aisthorpe, Oakland police observed Smith impeding traffic at the intersection of West Grand Avenue and Telegraph.  Aisthorpe said Smith's sound system was audible over 50 feet away, an infraction of the state's vehicle code.  
 She also said that Smith refused to provide identification and was arrested for that reason, and provided false information to the officers trying to identify him.
Smith founded the bicycling organization Rich City Rides in 2012 and serves as its executive director. The organization encourages bicycling as a healthy lifestyle choice, provides instructions in bike 
mechanics to young people in Richmond and gives them an opportunity to earn bikes through volunteering.  Smith is also a member of the Richmond Bicycle / Pedestrian Advisory Committee.
In an open letter, Smith wrote that even after all the legal charges against him have been wiped clean, one thing cannot be undone. "The trauma that was laid on me....The trauma is cumulative and excruciating and it all just adds up." 
 
KTVU's Lisa Fernandez and Andre Senior contributed to this report.