'He did not deserve to die': Family of Tyre Sampson honors teen 1 year after death on Orlando FreeFall ride
ORLANDO, Fla. - "Justice for Tyre will always be the case," said Yarnell Sampson on the one-year anniversary of his 14-year-old son's death. 
The family of Tyre Sampson gathered at ICON Park in Orlando on Friday with balloons to honor the teen who died last year after falling from the Orlando FreeFall ride.
His tragic death has sparked change and his parents and the community have been fighting to make amusement rides safer.
Before he spoke to the media, Yarnell broke down in tears thinking of his son, who was a football player with a 4.0 GPA.
"He did not deserve to die," he said. Tyre would've turned 16 this year.
Crews have been working hard over the last few weeks to tear it down the ride – which stood 430 feet tall – before the anniversary of Tyre's death. 
Yarnell said he watched this week as the final piece of the ride was taken away, calling it a "bittersweet" moment. 
"Hopefully that ride never, ever gets put up again… No other country, no other place."
The family and attendees tied blue, orange and white balloons to the fence surrounding the site where the ride was built.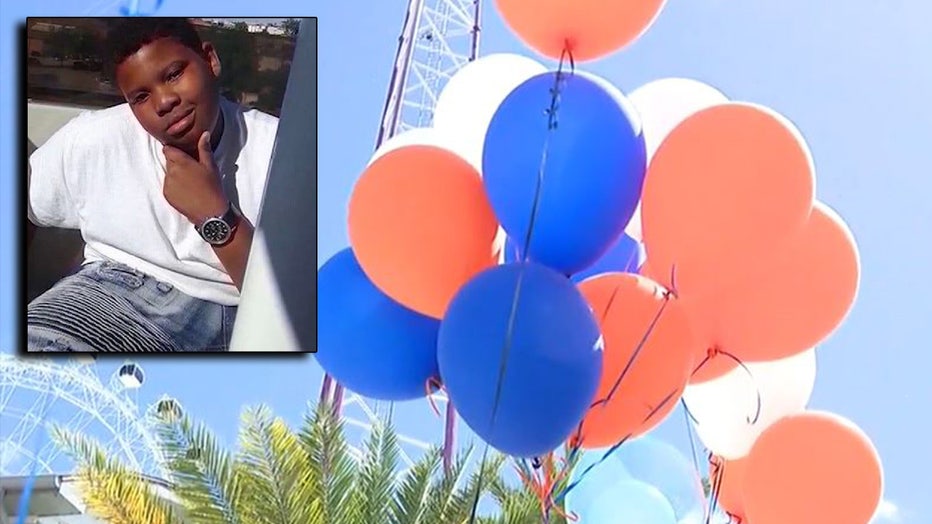 Tyre was visiting Orlando on March 24, 2022 with another family from St. Louis, Missouri when he rode the Orlando FreeFall ride. Tragically, he fell to his death that night from more than 100-feet in the air after slipping out of his seat. The ride has been closed ever since.
Investigators had concluded that Sampson's seat was manually adjusted to fit larger riders.
An operating manual from the ride's manufacturer for the Orlando FreeFall stated that the maximum passenger weight is just over 286 pounds. Sampson was 6 feet, 5 inches tall and reportedly weighed 360 pounds.
CONTINUING COVERAGE: 
Orlando FreeFall: Will a new ride open at ICON Park to replace drop tower ride?
Orlando FreeFall ride death: Operator made 'manual adjustments' to Tyre Sampson's seat, report says
Ben Crump: Teen's death on Orlando FreeFall 'worst tragedy captured on video' since George Floyd
Florida lawmakers are debating proposed legislation for ride safety following Tyre's death. The legislation would require the state to sign off on rides before they open. Known as the Tyre Sampson Act, it would toughen regulations on rides and allow the state to review employee training and shut down rides that appear unsafe. 
Sampson's mother, Nekia Dodd, announced last week that her family has reached a settlement with the ride's owners and operators. The family is also backing new state laws to keep tragedies like this from happening again.
"Unfortunately, when he passed, I was not there for him so I had to do this," his mother said. "I didn't want to come under the circumstances, but I had to do this."
FOX 35 is working to find out what was in the settlement and what will happen to the space now.
Yarnell said he is working with the Orlando Slingshot Group and ICON Park to come up with a scholarship program to help young men go to college and keep Tyre's legacy alive.