Reports: 49er Reuben Foster fined and suspended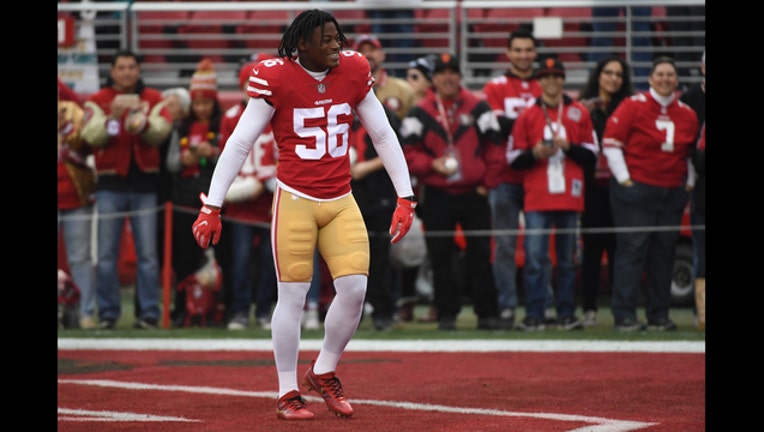 SAN JOSE, Calif. (KTVU and Wires) - According to multiple reports, San Francisco 49ers linebacker Reuben Foster was fined and suspended without pay for the first two games of the upcoming regular season.
This comes after Foster violated the NFL's Conduct and Substances of Abuse policies. 
Foster pleaded no contest last month  to a misdemeanor assault weapon possession charge, which was discovered during a domestic assault charge, which has since been dropped.
Attorney Joshua Bentley entered his plea on his behalf, the Mercury News reported.
The gun charge stemmed from the discovery of a loaded Sig Sauer 516 short-barreled rifle on a bathroom floor at Foster's Los Gatos home the morning of his Feb. 11 arrest on suspicion of domestic violence. It was initially charged as a felony, with prosecutors arguing that the handling and storage of the rifle warranted a serious charge.
But it was later knocked down to a misdemeanor, and Foster was was sentenced to two years probation, during which he will not be allowed to possess firearms or ammunition, the Mercury News report. He will be allowed to fulfill a 30-day work sentence with community service at a court-approved charity or nonprofit, Santa Clar County Superior Court Judge Nona Klippen ruled.
ESPN reported the NFL is still mulling a potential multi-game suspension for Foster.
Last month, the San Francisco 49ers eased Foster back into the system after he missed the start of the offseason program while dealing with a domestic violence case that was eventually dropped because his girlfriend recanted and the judge determined there was no evidence that Foster ever hit his ex-girlfriend.
The 49ers drafted Foster 31st overall last year after questions about his health and character caused him to drop from being a possible top 10 pick.
Foster delivered on the field, ranking second on the team with 72 tackles despite being limited to 10 games as a rookie because of injuries. He is being counted on now to be a key part of San Francisco's defensive future.
"For the 10 games he played in, I thought he was outstanding," Holland said. "His ceiling is very high. He's going to be better this year. We're excited to have him back and hopefully he can come back at full speed and his health is not a factor and he can be an outstanding football player."
The Associated Press contributed to this report.