Residents say tire thefts in North Oakland on the rise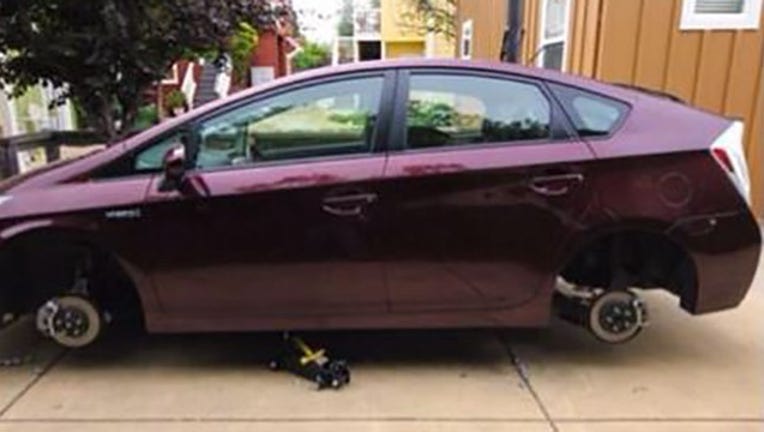 article
OAKLAND, Calif. (KTVU) - Imagine walking outside in the morning to see your car in the driveway with its wheels completely gone. It's been happening to car owners in North Oakland recently, with at least a handful of thefts just in the past 10 days.
Oakland police spokespersons told KTVU they haven't seen a spike in the crime recently, but say it is a difficult type of crime to keep track of, because many victims don't report it.
Victims either pay out of pocket for new tires and rims, or let their insurance handle it. But several car owners, tire specialists and car dealerships KTVU spoke to said they have noticed a trend.
"I was holding back crying, because I really was upset," said Lisa Corbin, of Oakland. The source of her frustration was seeing the car in her driveway with all four wheels stolen.
"This side was jacked up with a brand new jack and that side was being held up with a stack of bricks," she said.
It happened sometime overnight on May 1st. Corbin said despite the fact that her family, and two dogs were sleeping in the house at the time, no one woke up. "We didn't hear a thing," she said.
The vandalized vehicle was a brand new 2015 Mercedes C300 loaner car from the dealership. When she called to tell them about it, they said wheel theft was a problem other customers had experienced, too.
An employee from the service department sent us a picture of all the jacks he'd collected over the past couple months from cars that had had their wheels stolen, just like Corbin's.
On Monday thieves ripped off the wheels and rims on a Mercedes parked at 58th and Shattuck, making it the fourth wheel theft in the Temescal/North Oakland Neighborhood in the past ten days.
"People work hard for the things they have, and you feel violated when someone comes and takes those things from you," Corbin said.
"With the tires and wheels that are coming out on newer vehicles, it's not uncommon to pay a thousand dollars for a set of tires," said Doug Anderson with George Oren Tire Specialist in Oakland.
Anderson said the more valuable the tires, the more attractive they are to thieves. He believes the stolen tires and rims are being sold on the re-sale market.
"Flea markets are real common for selling stolen tires. There's no questions asked," he said. "They'll offer them 20 25 cents on the dollar to what they're actually worth."
The costs to car-owners add up - Corbin has insurance, but she still had to pay for the stolen wheels.
"My deductible, which I think is a thousand dollars. But I know it was over $4,000 worth of damage," she said, referring to the stolen tires and rims on the 2015 Mercedes.
Corbin said she did not report the crime to Oakland police. "OPD is so busy, I didn't know if they wanted to come for this."
Anderson and other car experts recommend car owners put locks on their rims, but warn it's not a guarantee against theft. With the right kind of tools, a skilled, experienced thief can cut rim locks, but Anderson said those locks would at least make the process slower for a thief.