Reuben Foster's former girlfriend recants domestic violence claim, says she can prove it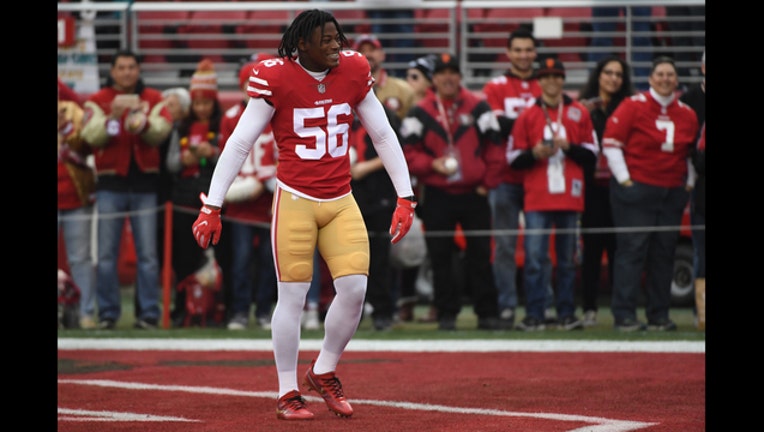 article
OAKLAND, Calif. (KTVU) - The former girlfriend of 49ers linebacker Reuben Foster said on Tuesday that her injuries from an alleged February incident in Los Gatos were not caused by Foster and she could prove it.
Elissa Ennis, the former girlfriend, released a statement through her attorney Stephanie Rickard. In the statement, Rickard acknowledges that Foster was charged with domestic violence and assault weapons felonies following a Feb. 11 incident. The charges were the result of what Ennis told deputies. But Rickard continued, saying those charges were based on the lies Ennis told.
"[Foster] did not strike her, injure her or threaten her," Rickard said.  
The injuries Ennis sustained were the result of a physical fight with another woman, the statement said. Rickard said there is a video of the fight. Foster reportedly tried to end his relationship with Ennis after he learned of the fight. Ennis was troubled with Foster's approach to the incident and threatened him in response.
"She was extremely upset and told him if he broke up with her she would 'trash his career,'" Rickard said.
Ennis realized what she had done and went to the Santa Clara District Attorney's Office to recant what she told deputies, Rickard said. 
Formal charges were filed by the Santa Clara County's District Attorney's Office against Foster on April 12. Ennis reportedly flagged down a stranger's car driving on Shannon Road in Los Gatos to call 911. She told sheriff's deputies and Los Gatos police that Foster dragged her by her hair, physically threw her out of the house, and punched her in the head eight to ten times, according the district attorney's office. Ennis suffered a ruptured ear drum and was hospitalized
The statement released Tuesday does not specifically address Ennis flagging down the stranger's car or the details of the original incident. 
Rickard said that Ennis realizes the kind of attention this case is drawing. She touches on the #MeToo movement and recent domestic violence incidents with NFL players, noting that this case isn't one of those before issuing an apology to all those harmed by her alleged false accusation.