Right-wing activist Kyle Chapman remanded into custody after judge raises bail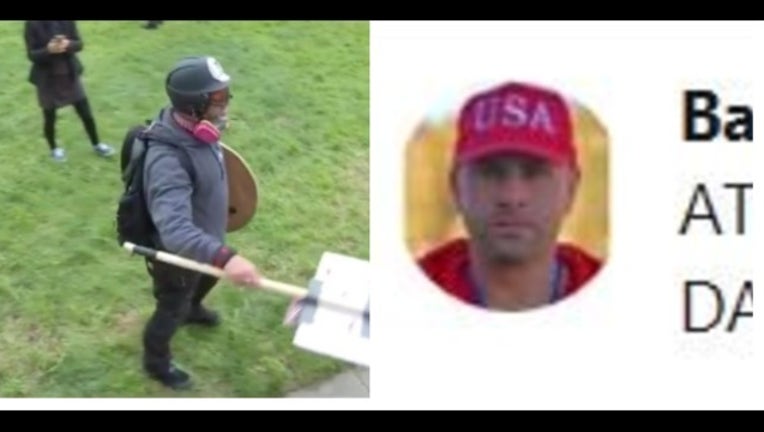 article
OAKLAND, Calif. (BCN) - Right-wing activist Kyle Chapman, who faces a felony charge of possession of a leaded cane for allegedly brandishing a leaded stick at a rally in Berkeley in March, was remanded into custody today after a judge said he violated an order not to possess any weapons.
Chapman, a 41-year-old Daly City man, had been free on $135,000 bail since shortly after charges were filed against him in August but Alameda County Superior Court Judge Yvonne Northridge increased it to $400,000 today.
Prosecutor Chris Cavagnaro said Chapman's possession of a Kubotan self-defense key chain is "a clear, willing and knowing violation" of another judge's order that he not possess any weapons as a condition of his bail and asked that his bail be increased to $500,000.
Chapman, who also goes by the name "Based Stick Man," said in a video that he posted on his Facebook account earlier today that he had a Kubotan key chain, which is about five inches long and is made of a hard high-impact plastic and lined with grooves, because he's been attacked by antifa activists.
Chapman alleged that the prosecution's request to increase his bail to $500,000 "is purely politically-motivated" because he said that amount is usually only set for murder suspects.
He said his previous bail of $135,000 was "already astronomical" for what he described as "a billy club charge."
The Alameda County District Attorney's Office filed the felony charge against Chapman for his actions at the "March 4 Trump" rally at Martin Luther King Jr. Civic Center Park in Berkeley on March 4 in which Trump supporters clashed with counter-protesters.
There were multiple instances of violence between the two groups and Chapman was identified as one of the people causing violence, Berkeley police Officer Darrin Rafferty wrote in a probable cause statement.
A man later identified as Chapman who was wearing a black baseball helmet, goggles and a backpack with metal buckles sprayed what appeared to be pepper spray into a crowd of protesters that Chapman's group had been arguing with, according to Rafferty.
A short time later "Chapman was involved in multiple altercations with many people" and "was swinging what appeared to be a wooden stick at many people," Rafferty wrote.
However, Rafferty wrote that it was unclear if Chapman hit anyone because the camera didn't stay focused on him during the altercation.
Rafferty said that after he reviewed videos of the clash at the rally, "it is clear that Chapman was in possession of a piece of wood that had been fashioned and carried as a weapon."
Defense lawyer John Noonan said at Chapman's hearing today, which was guarded by eight Alameda County sheriff's deputies, that Chapman carried the self-defense key chain because "he had to do something to defend himself" after he was attacked several times.
Northridge said, "It's unfortunate his car was broken into" but said she was concerned because Chapman has made threatening comments on his Facebook page, although she didn't disclose the specific words Chapman used. Northridge said possessing the key chain "is what he's not supposed to be doing."
Prosecutors say that Chapman has two prior convictions, one for grand theft in San Diego County in 2001 and one for robbery in Texas in 1993.
Chapman is scheduled to return to court on Jan. 3 for a pretrial hearing.