Sacramento postal worker rescues girl from sex trafficking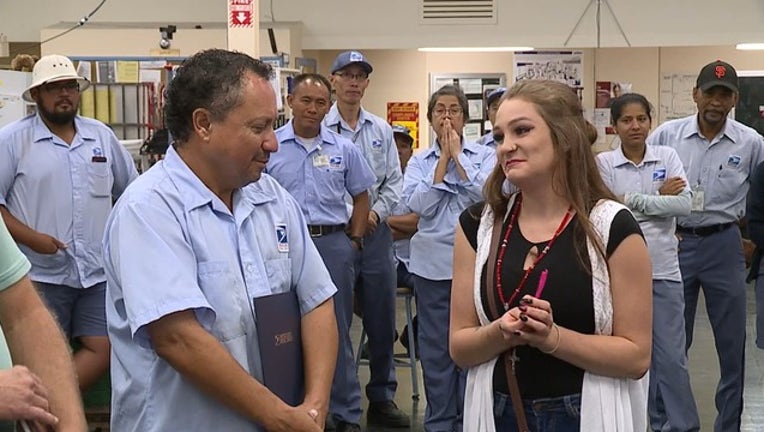 SACRAMENTO, Calif. (KTVU) - A Sacramento postal worker is being called a hero after he helped rescue a 16-year-old girl from sex trafficking.
Ivan Crisostomo says his fatherly instincts kicked in on June 8 when he saw the girl sobbing in someone's front yard on the postal route he takes every day. 
"I hear this crying, this desperate crying. I saw her hiding behind this kind of bush, kind of tree," he said, per KTXL.
After talking with her, he realized Crystal Allen had just escaped being held captive by sex traffickers. "She started to point to her arm, saying, 'They were putting things in me. They were putting things in me. They are coming to get me,'" Crisotomo said.
The captors were taking Allen somewhere to hurt her, according to the teenager. And after hearing that she decided to "grow some balls" and "jump out of the car." On the way out she managed to grab her captor's phone. First thing she did was call her mother.
"Until she handed the phone to Ivan and we spoke with him, we had no idea what was going on," said Stacy Ohman, Allen's mother. "We had no idea where she was or anything."
The teenager says she was drugged, tortured and sexually abused for three months. She never thought she'd see her family again.
"I just cried all the time and prayed that I'd get to see my mom again," Allen said.
Allen and Crisostomo had a chance to meet on Thursday. She's calling him a hero, "even if he doesn't think it."
"We, as mailmans (sic), we have a duty. As human beings, being there, knowing the people, we have a kind of different responsibility with our neighbors and the people we serve," Crisotomo said. "That's how I see it."
It is not currently clear whose Allen's alleged captors are or how she became involved with them.