San Diego State basketball player in Sweet 16 keeps Oakland, brother on top of mind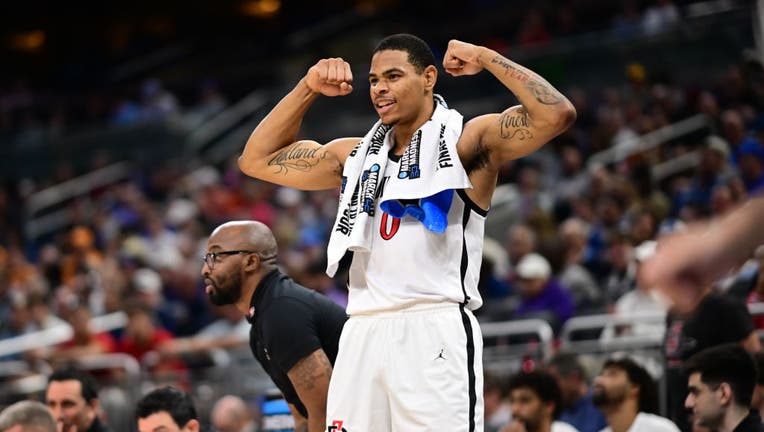 article
When San Diego State senior Keshad Johnson takes the court on Friday for a Sweet 16 matchup against a heavily favored Alabama team, Oakland will be on his mind and visible to everyone watching. 
Tattooed in cursive across Johnson's left bicep is "Oakland" and on his right "finest" an homage to the city that motivated him to make it out, and find success. It's also the perfect juxtaposition to just how fast it can all be taken away. 
Keshad grew up in the Lower Bottoms neighborhood of West Oakland with his parents and siblings. 
His brother, Kenny Johnson, who was a talented basketball player in his own right, said the neighborhood was riddled with poverty, drugs and violence. 
SEE ALSO: Oakland Tech Lady Bulldogs building a dynasty
And, while Keshad rose above and out of Oakland's violence without physical scars, Kenny wasn't as lucky. 
He was shot and paralyzed at the age of 14; the victim of a random shooting. 
"They shot 20 times and hit me 10 times, luckily in places that weren't main arteries," Kenny said. 
The shooting changed Kenny's life forever. 
"It messed my life up," Kenny said. "I will never be able to run again."
Kenny still has two bullets in his body. 
His dream of playing Division I college basketball was dashed. He is paralyzed and in a wheelchair to this day. 
Since then, Kenny has been living vicariously through Keshad. 
And he's all right with that. 
"Getting to the stage he's at is amazing, I wish I could have done it," said Kenny, who has since moved to San Leandro. "Deep in my heart, I know I could have done it and I think that's part of the reason he's doing it too."
Keshad is the youngest of six siblings, but he has always wanted to be like Kenny, the second youngest and four years Keshad's senior. 
The two bonded early over basketball.
"At first he was really clumsy. I'm not going to lie," Kenny said with a laugh. 
But an early growth spurt for Keshad meant when they played against each other, it was always competitive. 
"He would get under my skin being the little brother he was," Kenny said. 
Nearly a decade later, and their competitiveness is not gone, it's just different. 
They push each other.
On Friday, when Keshad takes the floor in Louisville, 2,300 miles from Oakland, in what will be the biggest game of his young basketball career, Kenny will be there to cheer him on, and watch his brother achieve both of their dreams.