San Francisco authorities prep for problems associated with 4/20 event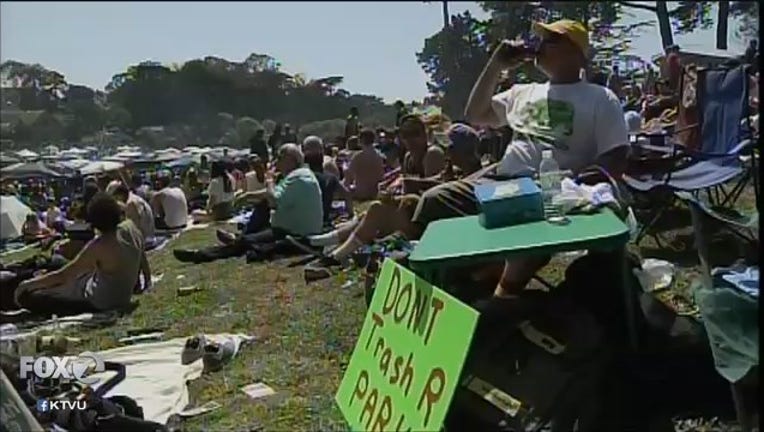 article
SAN FRANCISCO, Calif. (KTVU) - For medical marijuana dispensaries, it's probably the biggest day of the year. Monday marks 4/20 - the annual, international marijuana celebration.
"Oh my gosh, it's gonna be packed," said Kaitlyn Dickey, a cannabis consultant at San Francisco's Bloom Room dispensary. "On 4/20, we're gonna have like a big party here. Bunch of freebies, testers, a little bit of everything. It's gonna be fun."
4/20 usually brings clouds of smoke to Hippie Hill in San Francisco's Golden Gate Park.
Police estimate 15,000 came to the park for last year's event, which happened to fall on Easter Sunday.
Merchants told KTVU they lost a lot of business when police closed down nearby streets to deal with pot enthusiasts cruising the streets. "Nobody could enter with a vehicle into the Haight Ashbury district," said Distractions store owner Jim Siegel. "The merchants were not very happy about that, we were not warned about it."
At an informational meeting Friday afternoon, officers at the SFPD Park Station told residents they hope to keep street closures to a minimum this year. "We've used an alternative plan in which we're going to be closing part of Fell Street starting about 2:30 and we're going to divert that traffic north. But other than that, it should not have any effect on Haight Street," said SFPD Captain Raj Vaswani. "Our focus is going to be on any type of violence and any type of unruly behavior that affects the merchants, the neighbors."
The aftermath of 4/20 often leaves the city's Recreation and Park Department with a hangover. Last year, 20,000 pounds of trash were left in Golden Gate Park. The department spent $23,000 for cleanup and park patrol. "We want people to enjoy the park," said Supervisor London Breed, "but we also want them to clean up after themselves and take their trash out or throw their trash in a trash bag and do everything they can to protect the park."
There are signs that message is getting through, with a number of groups organizing volunteers to clean up afterwards. The Bloom Room dispensary is asking its clients to come back to the park once the party's over.
"We're gonna be there at like 8 a.m. to clean up on 4/21, just to leave a better name for ourselves in the community," said Dickey.