San Francisco firefighter dies in training accident
SAN FRANCISCO - A San Francisco firefighter died Wednesday morning after falling from an elevated position during a training exercise.
San Francisco Fire Lieutenant Jonathan Baxter confirmed the identity of the firefighter-paramedic as 42-year-old Jason Cortez.
Baxter said around 10 a.m. Cortez was injured around during a drill at the Division of Training at 19th and Folsom Streets. He was transported to San Francisco General Hospital where he died from his injuries. 
"This is a very trying time as Jason was very liked in our department," the fire lieutenant said. Adding, "He's a friend to all. He's an advocate for public safety."
Cortez began his career as a paramedic at Station 49 in 2007. He later attended the fire academy and graduated as a firefighter-paramedic assigned to Station 3 in San Francisco's Tenderloin, one of the busiest fire stations in the country.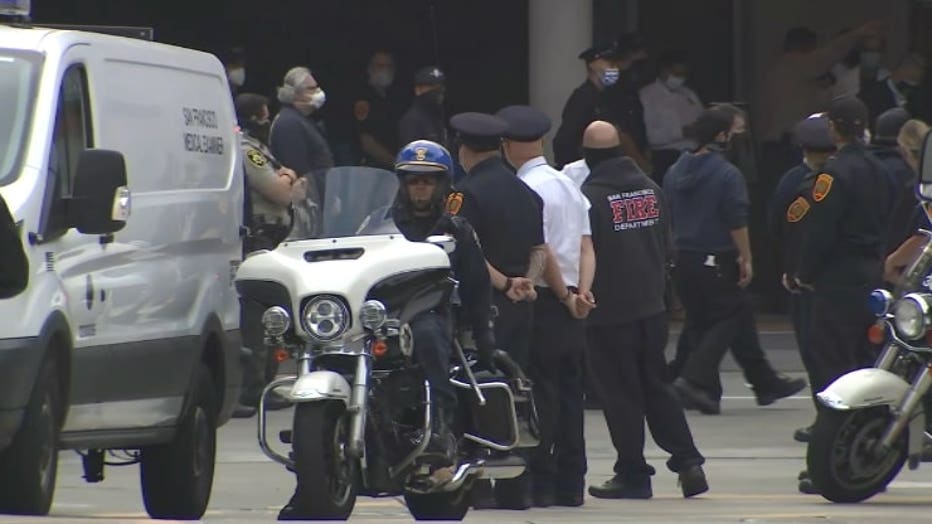 Firefighters wait outside Zuckerberg San Francisco General Hospital following a training accident that killed a firefighter.
Cortez was the son of a retired San Francisco firefighter. He leaves behind a wife and two children. 
San Francisco Fire Chief Jeanine Nicholson spoke highly of the fallen fighter, who she's worked with. 
"Always a straight-up guy, hardworking, and kind," Nicholson said. "If I could clone him, I would. He was just a wonderful human being."
Fire officials would not provide specific details about the accident, but said there will be an investigation.
A procession was held for Cortez at San Francisco General Hospital Wednesday afternoon with ambulances, fire trucks and other vehicles heading to the city medical examiner's office.