San Francisco ice cream shop gets a scare, but there are no redevelopment plans
SAN FRANCISCO - A beloved ice cream shop in San Francisco's Richmond District had a scare that a new owner would kick them out and demolish the building to make way for new construction.
Joe's Ice Cream on Geary Boulevard is a neighborhood favorite, that's why when word spread that crews were taking measurements and that the building's owners had been meeting with San Francisco's Planning Department, Joe's owners and neighbors started to worry. Alice and Sean Kim are the fourth owners, having bought the business 10 years ago. 
"And all of our owners have kept our traditions, and of course our ice cream recipes. This has been, you know, just been a neighborhood spot for, now I guess 62 years," said Alice Kim.
That's why when surveyors started showing up last month and measuring around the building, Sean Kim got concerned. "I'm curious, I'm Googleing, I just put our address and their development plan comes up," said Sean Kim.
Joe's owners aren't the only ones worried.  Customers say Joe's is a neighborhood icon. "I would definitely be sad if Joe's wasn't here anymore," said Megan McHugh. "Oh my goodness. This is like, every time you come back true San Franciscan style, even if it's cold out, there's people here getting ice cream. It would definitely be sad to see it go."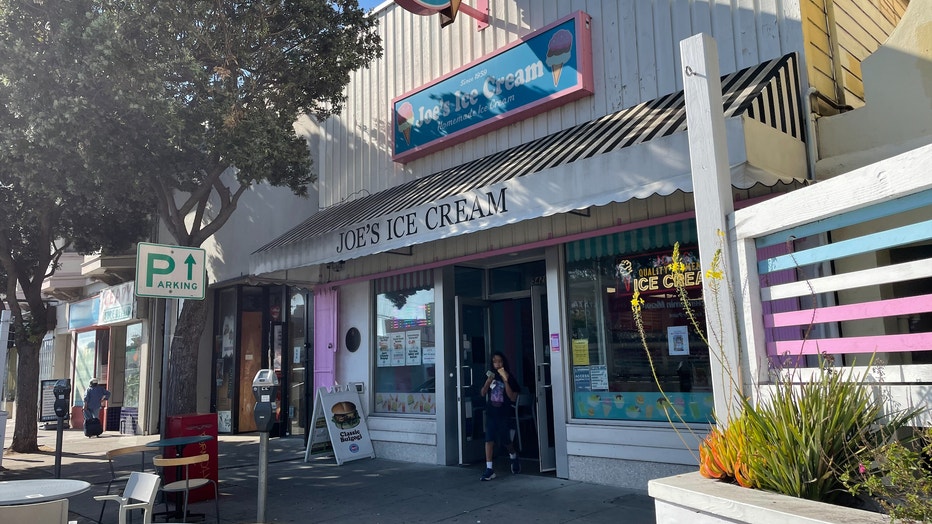 San Francisco's Planning Department says the building's owners called for a project review meeting with the city. But the planning department says that meeting appears to have been an exploratory meeting about what options they might have to develop now or in the future. So far the owners haven't filed any plans to demolish or even begin the process of redeveloping the site.
But, in case that changes, Joe's is asking for the community's continued support so they can serve up scoops to another generation of San Francisco families. "I already know they love us, but, I just want to see the support that they really, really want us to stay in the neighborhood together for another 60 years or something," said Alice Kim.
MORE: San Francisco police, FBI look for girl missing for 6 years
When KTVU spoke with the city's planning department they said these kinds of meetings are actually pretty common, sometimes they lead to a redevelopment plan, but often they are simply a way for property owners to figure out what their options are.
The owners of Joe's said they're happy that there are no imminent plans to redevelop the property, and are in the process of seeing if they can buy the building outright themselves.