San Francisco man says his cousin was in Gaza hospital during attack
SAN FRANCISCO - The State Department blames a Palestinian terrorist organization for the misfired rocket, seriously damaging a hospital in Gaza.
The death toll is in the hundreds and a Bay Area man is fearing the worst.
Sharif Zakout of San Francisco told KTVU his cousin was seeking shelter at the hospital at the time of the attack.
"I'm hoping for the best for my family," Zakout said. "I have no idea what's happened to them."
They've lost contact since the blast.
Zakout said he doesn't know if they've survived.
"We are witnessing the genocide of my people and my family, dead center in it," Zakout said.
Burned-out cars in the hospital parking lot marked the spot of the blast's impact Wednesday.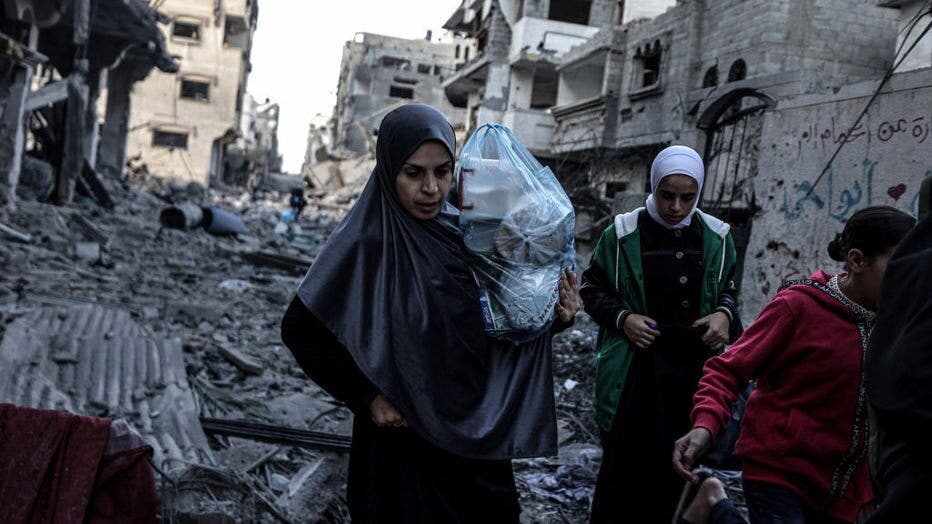 Palestinians carrying belongings flee to safer areas following Israeli bombardments on southern part of Gaza City, Tel al-Hawa neighborhood, Gaza on Oct. 16, 2023. (Photo by Ali Jadallah/Anadolu via Getty Images)
Israel blamed a Palestinian terrorist group for a misfired rocket that hit their own territory.
President Joe Biden on board Air Force One Wednesday, said American intelligence supported Israel's claims.
"Our Defense Department says it's highly unlikely that its Israelis and it was a different footprint."
Back in San Francisco, Zakout has been glued to online sources around the clock, tracking the war for nearly two weeks straight.
"I broke down a couple of times this morning and literally, I'm just tired of the tears at this point," Zakout said. "It's been so exhausting."
All he can do is keep fighting for a cease fire, armed with his keyboard.
Zakout has worked to organize rallies, like Wednesday's student walkout.
He has also designed signs in support of his loved ones whose futures are uncertain.
"I've unfortunately seen many names with my last name Zakout on the roster of names that have been found dead over the past week and a half," Zakout said.
Long term, he wants all the different religious groups and political parties that live in the war zone to be able to live together in peace.
He believes the answer is forming a legitimate democracy.