San Francisco mayoral candidates reveal their second choices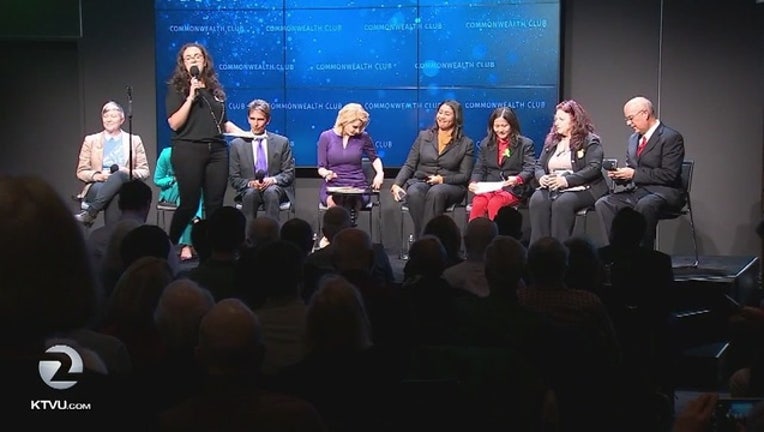 article
SAN FRANCISCO - The Commonwealth Club's mayoral forum on Monday featured seven candidates in what is likely the last event with all of them on stage together before the June special election.
Board of Supervisors President London Breed, the frontrunner in a poll last month, answered questions about housing and homelessness.
"I'm proposing that we build more housing and we build more housing faster, on underutilized sites all over the city  like we're planning to do at the McDonald's site at the Haight and Stanyan are building that we purchased in my district. I'm proposing that we add more police officers on our streets," said Breed.
Two progressives, former State Senator Mark Leno and Supervisor Jane Kim are running a close second and third in that same poll, with similar policies. Leno was asked how they differ.
"I would have had a difference on the twitter tax break, that we should have had community benefits," said Leno who added that local hiring requirements would have benefitted San Franciscans.
Kim said after the debate she feels she has more local experience in City Hall and in the community than Leno and could get results more quickly.
"I want to rebuild the middle class here in the city of San Francisco again. I want to continue the work we've done to make to make city college free for all of our residents, to make child care affordable for every single family," said Kim.
Former supervisor Angela Alioto, said she would crack down on crime and modify the sanctuary city policy to turn undocumented felons to federal immigration agents.
"I am the only one endorsed by the San Francisco Police Officers Association," said Alioto, "We have to get full force staffing of our police officers. We have 1,600 police officers presently and full force staffing is 2,200."
Three other candidates, a conservative Ellen Lee Zhou, Republican Richie Greenberg, and progressive housing advocate Amy Farah Weiss said they're running so voters can have more options.
"We have a left and left policy...my goal will be to bring back centrist policy," said Greenberg.
"I understand it would take a miracle for me to become mayor. But I'm open to miracles and I want to make miracles happen for San Francisco," said Weiss.
"I have (been) demanding and crying out for government change. Now is the time," said Zhou, who drew laughter and applause for her repeated vigorous assertions she would win and hire all the other candidates on stage.
Every candidate does hold some power, with San Francisco's ranked choice election system that gives voters an option to list their second and third choices for mayor. Those second and third choice votes can make a difference if the election is very close.
Each candidate was asked to name their endorsement for second choice.
"My number two choice is Jane Kim," said Leno.
"My second choice is London Breed. And my third choice," said Breed, declining to endorse anyone else.
"Weiss, Kim, and Leno," said Weiss.
"My number two is Mark Leno," said Kim.
"I'm not endorsing a number two," said Alioto.
"My second is Mr. Greenberg and Angela," said Zhou.
"I have no number two or number three," said Greenberg.
As for alliances, Greenberg told KTVU after the debate that Clint Greiss, a staffer compensated by Breed's campaign, did approach the Republican Central Committee at their May 2nd meeting to request that they endorse Breed as their second choice. The Republicans asked if Breed would in return endorse Greenberg, the Republican, as her second choice.
Greenberg said Breed's campaign declined to endorse him and the Republican committee also declined the request from Greiss.
"Board President Breed never reached out to Richie Greenberg or any other candidate regarding ranked choice strategies; she is not interested in cutting any deals, and she never has been," said Tara Moriarty, a spokesperson for Breed's campaign. "She's focused on earning every vote she can, on the strength of her practical solutions and bold leadership." Moriarty added that the staffer was found to be misrepresenting the campaign and action was taken action to prevent a similar incident in the future.
The June special election is being held to find someone who will fill the remaining one year of the late Ed Lee's mayoral term. Another election for a full term will be held in November 2019.