San Francisco mourns former Mayor and Senator Dianne Feinstein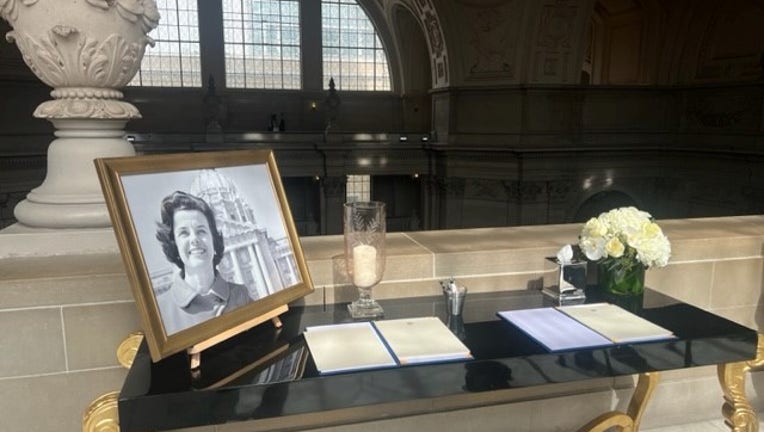 article
SAN FRANCISCO - Throughout Friday morning at San Francisco City Hall, several couples were smiling and full of joy as they prepared to get married. 
Yet under the dome of City Hall, there were many mourning the passing of the late Mayor and Democratic Senator Dianne Feinstein. 
Flags were flown at half-staff, as directed by Mayor London Breed. 
Not only was Feinstein the first woman mayor of San Francisco, but she's also held the title as the oldest member of Congress. 
On the second floor of the formal and gold regaled City Hall, the bronze bust of the former mayor and late senator was adorned with small bouquets of flowers. A large white, heart shaped spray of white orchids stood adjacent to the bronze effigy, located just outside the mayor's office.
Early Friday morning, Mayor Breed recalled the City's first female mayor as a mentor and a proud Democrat leader.  
Like Feinstein, Mayor Breed was propelled into the top City office after Mayor Ed Lee passed away suddenly. 
"One of the first calls I got was from Dianne Feinstein," said Mayor Breed. "She provided that support and mentorship to make sure I was prepared to step up at a difficult time in our city." 
Members of the public came to share remembrances and pay their respects at the south gallery on the fourth floor.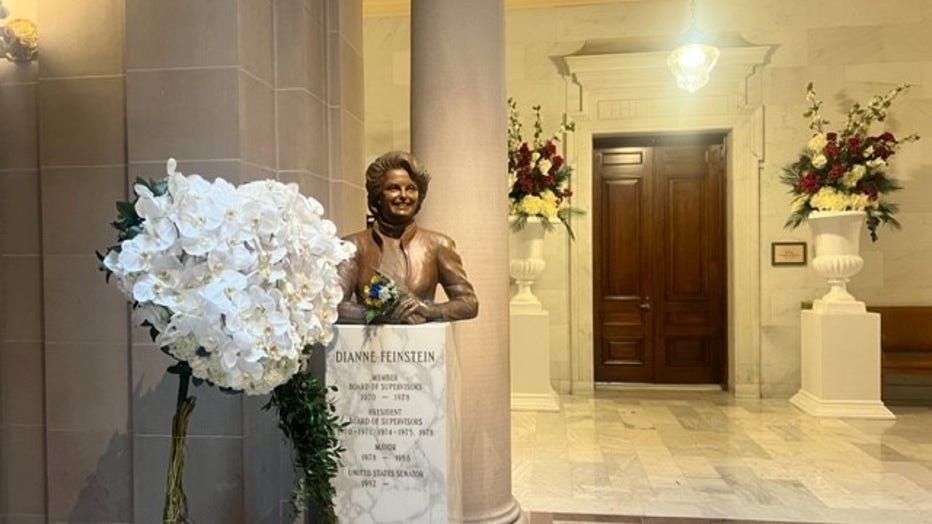 A floral spray of orchids aside bronze of former Mayor and Senator Dianne Feinstein (Alice Wertz)
John Begovich of San Mateo works in the city and also came to sign the book of condolences. 
"It's very sad to hear of Senator Feinstein's passing, but I feel like she lived a very full life, in service to others in her community and she served all the way until the end; and cared so much about this city and our city, and never wavered in in her effort to help other people," said Begovich.
Former San Francisco Chronicle columnist Heather Knight and longtime city reporter recalled the early days of Mayor Feinstein's leadership role to unify the city, at a difficult time, the summer of 1978.
She said, "She was a real hands-on, solid manager, who paid a lot of attention to the details. She would make her staff give her weekly reports of how many homeless people on the streets this week." 
Michael Fiumara was in the City visiting friends in the Castro. He shared the former Mayor "Di Fi" as she was known, made sure the city staff including the police were protecting and serving. 
"She was our gal in the city," said Fiumara. "She was very steady at a time when the city was very turbulent."
"There were mass riots, and the police were out of control, and she really guided the city with her agility. She was very classy and very calm," said Fiumara. "That's what she's known for."
ALSO: Questions raised about who will replace late Sen. Dianne Feinstein  
Especially inspired by Feinstein's leadership, are women like Tonia Chacon, who works in City Hall and was the first to share her condolences, by signing the book set up on the fourth floor in the south gallery. Portraits alongside candles and white lilies in large vases straddled the jars of pens and official stationery of the City of San Francisco. 
"I absolutely look up to her. She just paved the way for leadership roles for women in Congress, and being such a strong leader as a mayor," said Chacon. "When I was growing up I remember thinking, 'wow, I've never seen a woman in power and it's like the early 80s, but I just, it just blew me away. " 
"Everything she's done for this country has been amazing holding that office for so long," Chacon continued.
Mayor Breed said the public is invited to share condolences by signing the book, located on the fourth floor of the south gallery during operating hours at City Hall next week.
Alice Wertz is a freelance reporter with KTVU Fox 2 News. She can be reached at Alice.Wertz@Fox.com