San Francisco officer-involved shooting sparks Supreme Court debate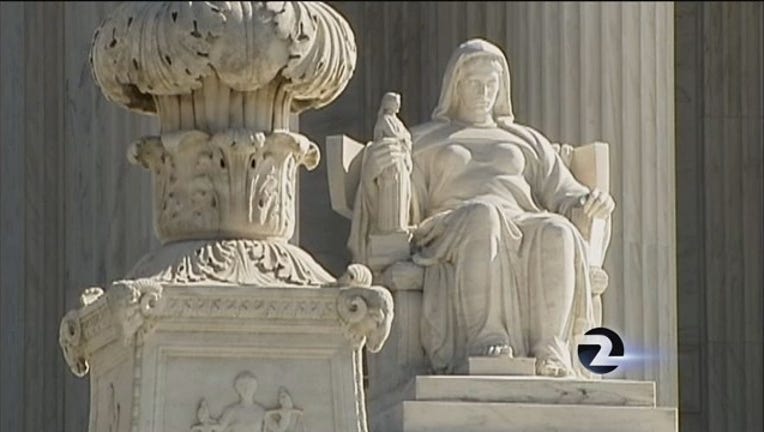 article
WASHINGTON (AP) — The Supreme Court on Monday seemed skeptical that the nation's disabilities law requires police to take special precautions when arresting armed and violent suspects who are mentally ill. Most justices expressed doubts about second-guessing police who are trying to protect public safety.
The justices heard arguments in a dispute over how San Francisco police in 2008 dealt with a woman with schizophrenia who had threatened to kill her social worker. Police ultimately forced their way into Teresa Sheehan's room at a group home, then shot her after she came at them with a knife.
Sheehan survived and later sued the city, claiming police had a duty under the Americans with Disabilities Act to consider her mental illness and take more steps to avoid a violent confrontation.
The case comes as police have been criticized for a series of high-profile incidents where suspects with mental illness have been shot and killed — most recently an unarmed, naked man in an apartment complex outside Atlanta.
San Francisco agrees that the ADA requires public officials to make "reasonable accommodations" to avoid discriminating against people with disabilities, but Deputy City Attorney Christine Van Aken told the justices that it doesn't apply "if the individual presents a significant threat."
Justice Antonin Scalia seemed to take the city's side, but he wondered whether the court should have taken up the case in the first place. Scalia grilled Van Aken about why the city seemed to change its legal tack after the high court had agreed to hear the case.
The city originally seemed to claim that the ADA didn't apply at all to police arrests, Scalia said, but later acknowledged that it did apply, except when armed and violent suspects pose a direct threat.
"There's a technical word for this," Scalia said. "It's called bait-and-switch."
Van Aken insisted that the city had consistently argued that there is no accommodation under the ADA "where there are exigent circumstances."
Sheehan's lawyer, Leonard Feldman, said he would welcome it if the court simply dismissed the case and sent it back to the lower courts. Then, a jury could decide whether police should have used less aggressive tactics, such as waiting for backup and trying to talk to her in a nonthreatening way. That's what the 9th U.S. Circuit Court of Appeals ruled after a federal district judge initially threw the case out.
"The entire risk that officers confronted was avoidable," Feldman said.
The Obama administration tried to stake out a middle ground. Deputy Solicitor General Ian Gershengorn told the justices that when a mentally ill person is armed and violent, police should only change tactics if the person is "contained and visible."
That didn't seem to satisfy Justice Anthony Kennedy.
"I think the standard you've just proposed gives no guidance at all to an officer faced with a violent person," Kennedy said.
The case has attracted attention from mental health advocates who say that failing to take account of a suspect's disability often results in unnecessary shootings by police. Lower courts have split on when and how the law should apply to police conduct when public safety is at risk.
Law enforcement groups have also weighed in, saying a ruling in Sheehan's favor could undermine police tactics, place officers and bystanders at risk and open them to additional liability.
In Sheehan's case, her social worker called police for help in restraining her so she could be taken to a hospital for treatment. Officers entered her room with a key, but Sheehan threatened them with a knife, so they closed the door and called for backup. But they said they weren't sure whether Sheehan had a way to escape, and were concerned that she might have other weapons inside.
The officers then forced their way in and tried to subdue her with pepper spray. But she continued to come toward them with the knife and was shot five times.
A federal district court sided with the police, ruling that it would be unreasonable to ask officers trying to detain a violent, mentally disabled person to comply with the ADA before protecting themselves and others. But the 9th Circuit appeals court said a jury should decide.
Justice Stephen Breyer will not take part in deciding the case because his younger brother, U.S. District Judge Charles Breyer, was the judge who ruled against Sheehan. The elder Breyer makes it a practice not to participate in cases decided by his brother.