San Francisco officials call for help to house recent fire victims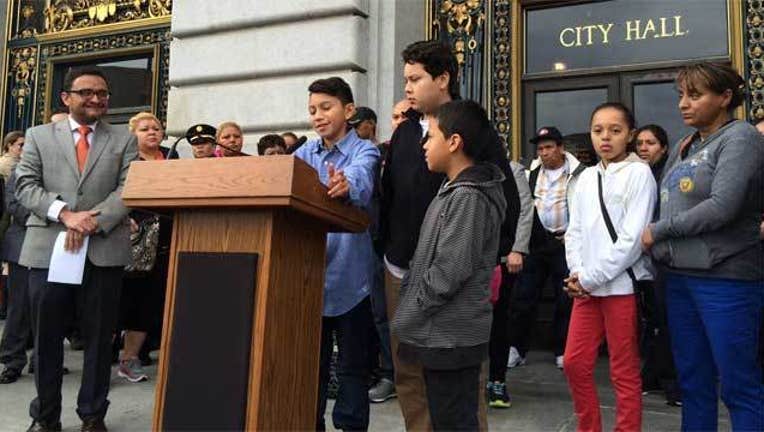 article
SAN FRANCISCO (KTVU and wires) -- Following three recent major fires in San Francisco that claimed the life of one man, injured others and left roughly 100 people homeless, residents and city officials gathered Thursday to request the public's help in housing those displaced and to introduce legislation aimed at helping victims and preventing future fires.
The three separate fires, which occurred on Jan. 28 in the Mission District, on Jan. 29 in the Tenderloin and on Saturday in Alamo Square, are not considered suspicious in nature but caused more than $11.5 million in estimated damage, according to San Francisco fire spokeswoman Mindy Talmadge.
San Francisco Supervisors Jane Kim and David Campos stood on the steps outside City Hall today with dozens of residents, many with young children, who lost everything they owned in the fires and who are now living out of shelters.
"Anyone who has properties that can be made available to these families so that they can have permanent housing, we need your help," Campos said Thursday.
He said the city is looking for six studios, two one-bedroom apartments, seven two-bedroom apartments and four three-bedroom apartments to house displaced people, mostly victims of the Mission District fire who are now living out of a shelter at 1156 Valencia St.
Campos said these individuals and families have the added stress of trying to find permanent housing amid a housing crisis in the city.
Charley Goss, government and community affairs manager at the San Francisco Apartment Association, said that thanks to the Good Samaritan Ordinance in San Francisco that went into effect in 2011, a Good Samaritan landlord has the opportunity to come forward and help these families.
Goss said the Good Samaritan Ordinance is an exemption from the city's rental ordinance that allows landlords to enter into a written agreement to house a displaced tenant following an emergency. The landlord must agree to charge the displaced persons a below-market rent, comparable to the rent at their former home, for up to two years.
Following the Good Samaritan status, the landlord can choose to terminate the tenancy or increase the rent. Anyone with a unit who is willing to rent to the fire victims under the Good Samaritan laws is urged to call emergency services coordinator Ben Amyes at (415) 557-5370.
Among those who were inside the Mission District building located at the intersection of Mission and 22nd streets on Jan. 28 when the fire started was 13-year-old Alessandro Gonzalez.
Alessandro was home alone when the fire started in his building. While he managed to escape the fire by breaking a window and climbing to safety, his family now faces homelessness, he said.
Campos said the fire alarms in the building did not sound, but that when the boy heard loud voices outside, he had the good judgment to call 911.
When Alessandro tried to open the window, however, it wouldn't open, so he broke the windowpane. While carrying his family dog "Buddy," he climbed down from the third floor to the second floor, at which point he was able to jump to the firefighters below, according to Campos.
Alessandro said Thursday that he is grateful to the public for their generous donations and for the bravery exhibited by the San Francisco police officers and firefighters every day.
He said the community has generously donated clothing and provided his family with a temporary shelter where they are staying until they can find a new home.
"We really need it now," Alessandro said of the community's generosity.
Alessandro's 18-year-old sister, Eyra Gonzalez, who is a freshman at University of California at Santa Cruz, came home from college to be with her family at the shelter following the fire.
Eyra said her parents moved into the apartment about a decade ago and, thanks to rent control, were paying only about $1,100 per month for a two-bedroom apartment in the heart of the Mission District.
Prior to the fire, Eyra and Alessandro Gonzalez's mother worked at a Salvadorean restaurant located on the ground floor of their building. As a result of the fire, the restaurant closed and their mother is now unemployed.
Their father still has his job installing hardwood flooring, but is taking a break to help the family find housing. Eyra Gonzalez said her family, who come from El Salvador, lost their foreign passports in the fire and have had to get new passports.
While Alessandro escaped the four-alarm fire, 40-year-old Mauricio Orellana, also from El Salvador, died in the blaze and six others were injured.
Campos said Mission District residents have said Orellana was a kind, friendly and selfless person who moved from El Salvador to San Francisco about 12 years ago.
Orellana continued to support his family back in El Salvador after moving to San Francisco. He was involved in a local church and there has been a fund established to send his body back to El Salvador for burial, according to Campos.
While the cause of the Mission fire remains under investigation and could take weeks to determine, police and fire officials said that it does not appear foul play or arson played a factor.
Talmadge said investigators received multiple reports that the residents had no advanced warning from an alarm system and that some of the fire escapes were either blocked or locked.
A fire inspector visited the building last week and verified that the certifications for the fire alarms and fire extinguishers are in fact still current, Talmadge said.
Fire department records indicate that between 2009 and 2012, officials have received roughly one complaint per year regarding items, including furniture and an awning, blocking the fire escapes at that building. All of those issues were abated, Talmadge said.
Campos said the city must review procedures regarding building code inspections and "must use everything in our power to prevent these recent fire tragedies from happening again."
On Jan. 29, the night after the Mission fire, another major fire occurred in a multi-story apartment building in the 600 block of Hyde Street, injuring two people and displacing roughly 23 more.
One of the injured victims in the Hyde Street fire may have jumped from the building to escape, but Talmadge did not specify which floor the victim might have jumped from. She said the victim was found injured on the ground near the building.
On Saturday, another major fire was reported in the 1500 block of McAllister Street near Scott Street, located about a block north of Alamo Square Park.
A firefighter who was battling the blaze was transported to a hospital with minor injuries resulting from smoke inhalation. The firefighter has recovered and no other injuries were reported, Talmadge said.
Supervisor Kim said that since the three fires occurred, "It's come to light that there is a lot more that the city can do to mandate requirements that will ensure fire and life safety in many of our residential buildings."
Kim said there is legislation in the works that could help prevent such fires from happening again in older multi-unit residential buildings by requiring that fire alarms and sprinklers be installed.
Additionally, Kim said there is proposed legislation to further support property owners in the event of a fire so that tenants can return home as quickly as possible and not allow an opportunity for speculators to swoop in and profit off of disastrous incidents.
Kim said penalties should be in place against property owners should they fail to make repairs in a timely manner. She said in years past, she has seen repairs stretch on for years while tenants wait to return to their homes and property owners wait for tenants to move on.
Campos said he too is proposing legislation to prevent fires in San Francisco.
Campos has proposed allowing housing inspectors to cite building owners when the annual certification for fire alarm systems is out of date, requiring apartment building owners to post signs informing residents of their right to file an anonymous complaint regarding fire safety issues and requiring building owners to file bi-annual affidavits with the Department of Building Inspection to certify that fire safety requirements are up-to-date.
Numerous funds have been set up for the fire victims, including a fund created by the city that will go specifically towards for the fire
victims' housing needs. To donate, people can go to www.Give2SF.org, click on "Mayor's Fund for the Homeless", and write in "fire victims."
A fundraiser on GoFundMe.com has been set up at http://www.gofundme.com/l1hrw8 and has already raised almost $113,000 for the Mission fire victims in the last week.