San Francisco police search for brazen gas station bandits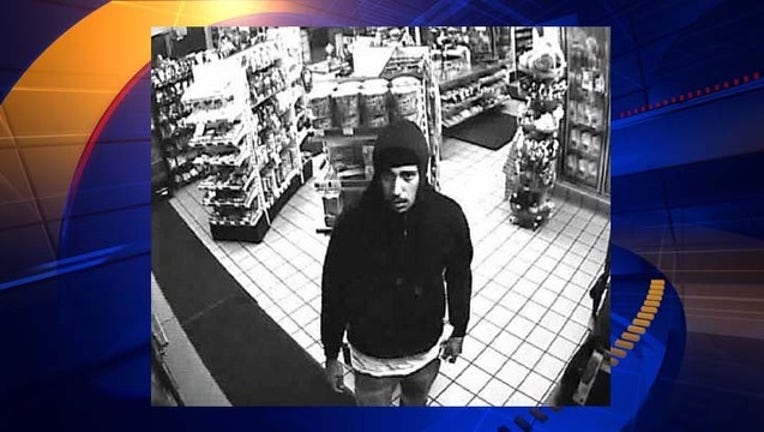 article
SAN FRANCISCO (KTVU) – Detectives released video and still images of a brazen San Francisco gas station robbery Thursday in the hopes that someone will recognize the suspects who opened fire on a clerk.
San Francisco police said the incident took place at around 2:40 a.m. on May 19th at a gas station on the 1200 block of Harrison Street.
According to detectives, the suspects cased the gas station while engaging in a short conversation with the clerk. Both suspects then approached the clerk, brandished a handgun and demanded money.
Fearing for his life, the clerk ran out of the gas station as the two suspects chased after him.
One suspect shot at the clerk approximately 4-5 times, but did not strike him.
The suspects then jumped into a waiting vehicle, which may have been occupied by a third suspect. The vehicle was last seen driving southbound on 8th Street toward the Highway 80 onramp.
Detective described the first suspect as a Latino male who is 22-25 years in age. He stands six-foot-tall and weighs 150 pounds with black hair and brown eyes.
He was wearing a grey beanie, black hooded sweater, white t-shirt, blue jeans, white shoes and had a thin mustache.
The second suspect was described as a Latino male who is 20-22 years in age. He stands 5'5'', weighs 120 pounds with black hair, brown eyes, wearing a "Raiders" hooded sweater, blue jeans and black shoes.
The getaway vehicle appeared to be a light colored sedan.
Anyone with additional information is asked to contact the Southern Police Station Investigations Team, (415) 575-6050, or the Southern Station Anonymous Tip-Line, (415) 552-4901, the Anonymous Tip Line (415) 575-4444, or Text A Tip to TIP411 and include "SFPD" in the opening of the message.