San Francisco remembers the Pulse nightclub massacre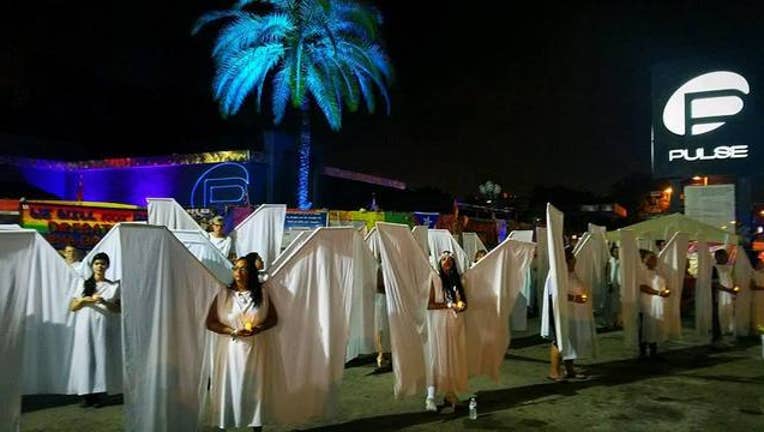 article
SAN FRANCISCO (Debora Villalon) - At the one year mark of the Pulse nightclub massacre, a national campaign seeks to turn sorrow into tangible action.
Organized as #HONORTHEMWITHACTION, people gathered in cities across the country, including in San Francisco's Castro district.
"Out of the bars and into the streets," shouted Pastor Megan Rohrer of the Grace Evangelical Lutheran Church, addressing a crowd of about 100 at 18th Street and Castro Street.
It was a timely chant, considering local bars were full of cheering basketball fans watching the Warriors win the championship.
The mood at the vigil was distinctly darker, with the microphone passed around, so people could ready the Pulse victim's names aloud.
Many of their voices shook with emotion, and tears were evident in the crowd.
"Christopher Andrew Leinonen, 32 years old," was a name with special resonance for Orlando transplant Donnie Plungis.
"Pulse was never my favorite club, it was my first gay club, but never my favorite club," Plungis told the gathering.
Before moving to San Francisco two years ago, Plungis went to Pulse many times with his friend Leinonen, known as "Drew."
"What I wouldn't do to randomly bump into him on a dance floor again," Plungis said sadly.
Drew and his boyfriend Juan Guerrero were among the victims of Omar Mateen, the 29 year old gunman killed by SWAT officers.
"Drew and his boyfriend died with 47 others as a victim of a system that does not care about each other," declared Plungis.
The deadliest mass shooting in U.S. history happened in the middle of Pride Month, and turned the nightclub, a haven, into a horror.
On that day a year ago, 10,000 people spontaneously gathered in San Francisco.
In the year since, LGBTQ leaders say the climate has only worsened.  
"People expressing whatever hatred and fear they had in their heart, expressing it outwardly and violently and that creates an unsafe environment for all of us," vigil organizer Joanie Juster told KTVU.
The response, Juster says, should be to take action, and push back against hate and discrimination and violence in any way possible.
As the vigil concluded, participants wrote personal pledges on post-it notes and left them on a bulletin board.
They also came to the microphone, to voice their pledge aloud.
"Honor them with action can take many forms," explained Juster. "Running for office, or simply being kind to each other, protecting someone who's being bullied, or teaching a child to be open and accepting, everyone can take some action."