San Jose may get a Barack Obama Boulevard in honor of former president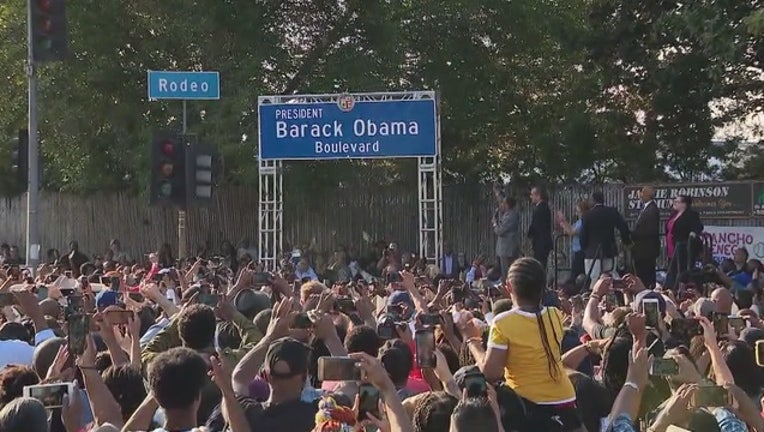 SAN JOSE, Calif. - In California, there are three schools, two streets and a highway named in honor of former President Barack Obama, but that could soon change. 
Alex Shoor, a San Jose native , has spearheaded a charge.org campaign to bring a Barack Obama Boulevard to the city of San Jose. He is also the co-chair of a committee that meets regularly to work on the planning and funding of the proposed name change. 
More than 2,400 people have signed his change.org online petition in support of the idea. Shoor says that Obama deserves the honor because he was the first person of color to be elected president and worked to recognize and move beyond racism in America. 
Furthermore, "the legacy of President Obama's election doesn't even touch on the grace and integrity with which he led America through eight years of a scandal-free presidency during a Great Recession, an ongoing war, and other high obstacles. Moreover, he implemented policies which many Californians support and from which we've benefitted," Shoor wrote on the petition. 
Across the country, there are already dozens of schools and streets named after Obama. There's even a Mount Obama in Antigua and a Barack Obama Plaza in Ireland. Earlier this month, Rodeo Road in Los Angeles (not to be confused with the famous Rodeo Drive in Beverly Hills) was officially renamed Obama Boulevard. 
L.A. also has a President Barack H. Obama Highway and in the California coastal city of Seaside, city leaders designated Broadway Avenue as Obama Way in honor of the 44th president of the United States. 
Shoor has several ideas on what San Jose street could be renamed Barack Obama Boulevard.
Shoor suggests a street name change north of San Pedro Square or near a future transit station. Another option would be keeping the name of an existing street and adding a second "commemorative name" to it as other cities do., according to the petition. Another possibility is renaming a street that has the same name as another street in San Jose. 
"In downtown San Jose, Almaden Boulevard and Almaden Avenue are only two blocks from each other,'' Shoor writes in the petition."We shouldn't have two streets with the same name, particular two so close together." 
Getting a street renamed in San Jose requires signatures from at least half of the city's residents with proof that they actually live in San Jose.