San Jose mayor, others introduce new environmental initiative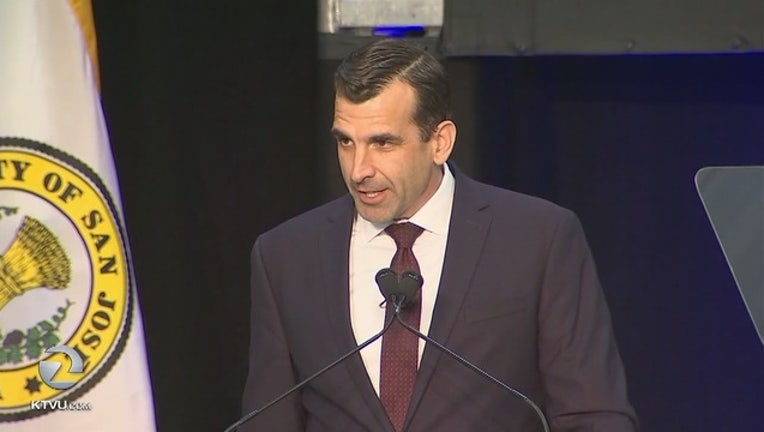 article
SAN JOSE (BCN) - San Jose Mayor Sam Liccardo, other city officials and community environmental advocates presented an initiative this morning designed to meet international goals laid out by the Paris climate agreement as well as local goals of sustainable water supply.
In 2017, many cities and counties all across California voiced their protest to President Donald Trump's announcement of the U.S. withdrawal from the Paris Agreement.
Liccardo was one of many Bay Area mayors who signed the We Are Still In movement promise, a document tagged by more than 2,000 U.S. mayors, governors, university leaders, businesses and investors.
The promise stated that signers would continue to support the accord, "working together to take forceful action and to ensure that the U.S. remains a global leader in reducing emissions."
In abiding by the "ambitious goals" of the Paris Agreement, the city has created the Climate Smart San Jose plan, which addresses energy and mobility, two of the largest drivers of fossil fuel emissions, according to the mayor's office.
The plan, spearheaded by the mayor and other city officials including Environmental Services Department director Kerrie Romanow, has nine overarching strategies.
The strategies include transitioning to a renewable energy future, densifying the city to accommodate future neighbors, making homes efficient and affordable for families, developing integrated public transport, creating local jobs to reduce vehicle miles driven, and improving commercial building stock.
Romanow said the plan isn't just about creating more green solutions, but also about improving the quality of life for residents and workers in San Jose.
Romanow said more than 2,000 members of the community provided input during the development of the plan.
The city leaders and stakeholders involved with the plan presented at 13 public meetings between May 2017 and this month.
"This is the culmination of a lot of work from an awful lot of folks," Liccardo said. "It's also the beginning of a lot of important work ahead and we're excited to make this happen."
The plan includes short-, medium- and long-term goals, including 100 percent emission-free electricity being made available to all San Jose Clean Energy users by 2021, reducing carbon emissions from vehicular trips by a million tons per year by 2030, and becoming the first city in the world to produce 1 gigawatt of solar power by 2040.
San Jose Clean Energy is the city's Community Choice Energy program and is expected to roll out later this year.
"We want all of our residents, specifically our low-income residents, to benefit from our green dividends that will come from reducing energy and water consumption," Liccardo said.
A town hall meeting will be held on Tuesday in City Council chambers at City Hall so that residents can learn more about the environmental initiative and what it will mean. The meeting will begin at 7 p.m. and end at 8:30 p.m.
The Climate Smart San Jose plan is scheduled to come to the City Council for approval during its meeting on Feb. 27.