San Jose police release video from La Victoria; acknowledge football player didn't bring gun
SAN JOSE, Calif. - San Jose police on Tuesday released an edited video stemming from a brawl inside La Victoria that ended with an officer shooting an East Bay college football player who was holding a gun he had grabbed during the fight.
Police initially rushed to the restaurant thinking the fight might be related to a homicide that occurred a block away and they had previously explained that they shot K'aun Green because they thought he might be connected to that death or be an active shooter in the neighborhood. 
But the video confirmed what the 20-year-old had said from the onset: Sgt. Christian Camarillo made the department's first formal acknowledgement that Green did not bring a gun into the taqueria on March 27.
And for the first time on Tuesday, Camarillo identified the officer who shot and injured Green as Mark McNamara, a 4-year-veteran who is on routine administrative leave. McNamara shot Green four times in the abdomen and the knee. 
Police still maintain that McNamara shot Green because he did not heed officers' orders to drop the weapon he was holding in his left hand. But now police and Green both agree that he had grabbed the gun from someone else - 30-year-old Bryan Carter – who was subsequently arrested for being a felon in possession of a ghost gun. Carter has been out on bail since his arrest.
Green insists he never heard the police commands. 
In an interview Tuesday, Green suggested police should have used loudspeakers; perhaps then he might have heard them shouting at him to drop the gun. 
Green's family has yet to receive any type of word from the department.
"I feel like I deserve an apology," Green said from his home on Tuesday. "I wasn't the aggressor." 
WATCH: Fight inside San Jose taqueria
Most everything else in the video was already reported previously, including the wild brawl inside the taqueria and the police belief that it might have been related to a homicide nearby – which it turned out it wasn't. 
The video includes narration from Camarillo and a mashup of other videos, including bystander video, surveillance video from inside and outside the restaurant and some body-worn officer video.
Green's attorney, Adante Pointer, called the video a "marketing show." Pointer also noticed the video never mentioned how many times his client was shot.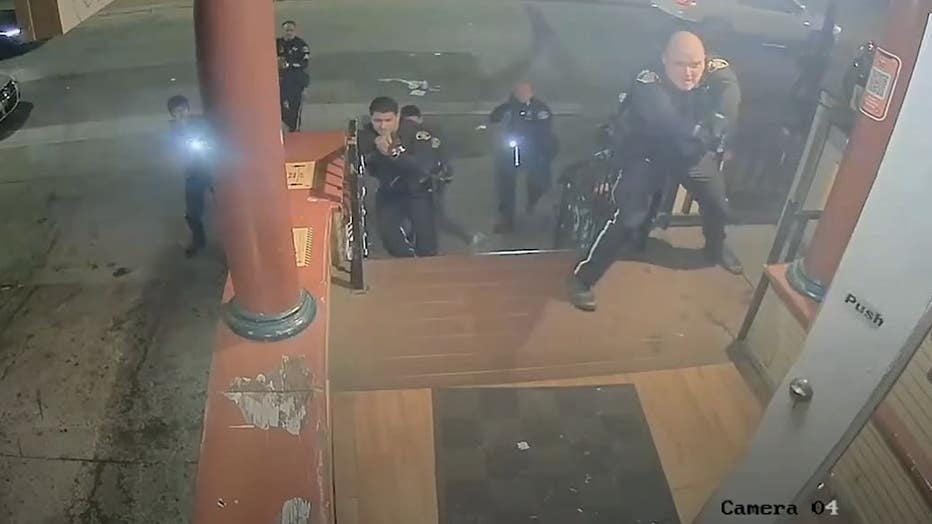 San Jose police arrive at La Victoria Taqueria in San Jose on March 27, 2022. 
The audio on much of the video is lowered or is inaudible because of the police narration. 
For instance, when Camarillo said the officers ordered Green to drop the weapon – which he had taken away from Carter after punching him several times – it is impossible to hear what police were saying at the time.
He said he didn't know anyone involved in the brawl, but was trying to quell the violence the best he could. 
Police highlight in the video that Green punched Carter several times, breaking the bones around his eye, before wresting away the weapon. 
Green, who played football for McClymonds High School in Oakland and now plays for Contra Costa College, has filed a federal suit against San Jose.
He said that he can't return to playing this season, but hopes to make a full recovery next season. Still, his stomach causes him pain and it's hard for him to sleep. 
Green added that while he continues to heal physically, it's the "mental battle" that's the hardest for him – knowing that his team has returned to the field without him.