San Mateo County pays $4.5M after man dies following Taser deployments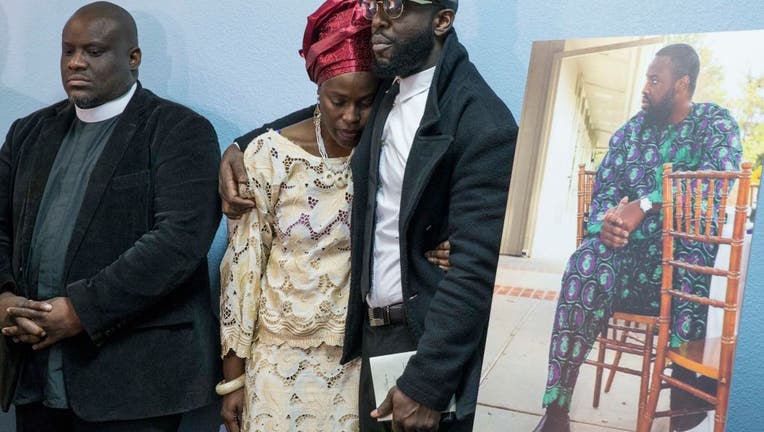 article
MILLBRAE, Calif. - San Mateo County has agreed to pay $4.5 million to the family of a 36-year-old Black man who died after being tased and beaten after he was jaywalking in Millbrae. 
The San Francisco Standard first reported the settlement following the October 2018 death of Chinedu Okobi, which was quietly reached in October 2021. 
It is the largest county payout in county history. 
In fact, San Mateo County paid out a total of $2.5 million from 2015 to 2020, according to KTVU's investigation of notable police payouts. 
Okobi's family, including his sister, Ebele Okobi who was a Facebook executive, said her brother struggled with mental illness and was having a breakdown the day he was walking along El Camino Real. He was the son of Nigerian immigrants, a father to a young daughter, a poet and a 2003 graduate of Morehouse College in Atlanta. 
Video at the scene shows Okobi walking away when deputies confronted him. He ended up punching Sheriff Joshua Wang in the face, which is when Wang Tased him seven times and a violent struggle ensued. Other deputies arrived and used batons and pepper spray on him.
Okobi died as a result of the police encounter, and the coroner ruled that the cause of death was from "cardiac arrest following physical exertion, physical restraint, and recent electro-muscular disruption."
The District Attorney cleared the deputies of any criminal wrongdoing, finding their use of force was reasonable under California law. 
Okobi was the fourth person who died in 2018 after being tased by law enforcement in San Mateo County.
But his death has not been in vain. 
Okobi's case spurred the sheriff to limit tasing suspects to a maximum of three times and other reforms were instituted including implicit bias training for officers and adding defibrillators in patrol cars.
Okobi's death also helped inspire state Assemblyman Phil Ting's law that decriminalizes jaywalking.
Still, despite the positive changes, police use of force -- including the overuse of Tasers -- continues to anger activists and civil rights lawyers. 
For example, Tyre Nichols died Jan. 10 in Memphis after five police officers tased him and beat him. 
"Mr. Okobi is yet another victim of walking, driving and ostensibly living while Black," his family's attorney Adante Pointer said. "He was pursued by police for a minor violation of jaywalking turned deadly because police were committed to punishing and subduing him vs. deescalating."