Santa Clara U graduate becomes first undocumented immigrant appointed to California post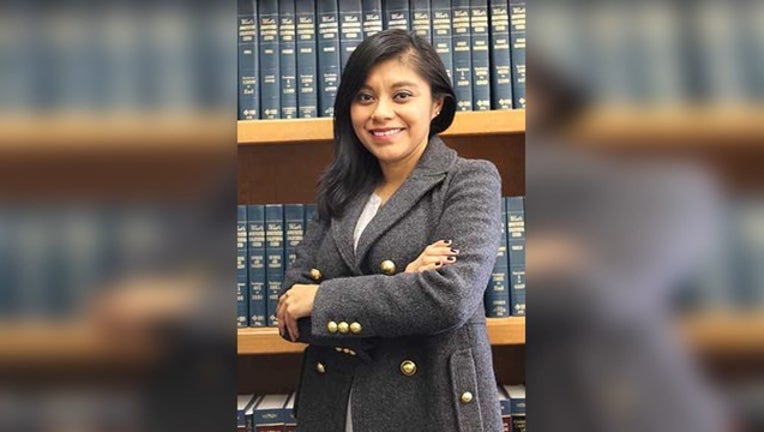 article
SACRAMENTO, Calif. - A Santa Clara University undergraduate has become the first undocumented immigrant appointed to a statewide post by the California President Pro Tem, one of the leaders openly fighting the Trump administration on immigration policies.
Kevin de Leon (D-Los Angeles) appointed Lizbeth Mateo, an attorney and immigrant rights activist, to the California Student Opportunity and Access Program Project Grant Advisory Committee, or "Cal-SOAP, which is a committee to help students from underserved communities go to college.
The Senate Rules committee does not have a record of ever before confirming a person living in the country illegally to a statewide position, according to de Leon's office. De Leon framed her appointment as a rebuke of Republican President Donald Trump's immigration policies. He made the announcement on Wednesday, the day after  Trump visited California to view prototypes of his proposed border wall.
Does this position put her status in jeopardy? "If ICE is telling the truth, then they are only going after hardened criminals and MS-13," De Leon's spokesman, Jonathan Underland, told KTVU on Friday. "And they are not going after law-abiding citizens and activists." 
The reactions on social media were swift and divided: "Bring in ICE," and "Arrest Kevin de Leon," someone named "Joe" tweeted. "YAAAAS Queen," and "Bravo!!!! #latinos #educatedlatina #immigrants," two others else wrote on Instagram.
Underland said there is no irony that a lawmaker such as de Leon would appoint an undocumented immigrant, highlighting the fact that her appointment is voluntary and no taxpayer dollars are going to the post. In addition, her lack of paperwork for being in the United States, where she was brought when she was 14, is a civil violation, not a criminal one. "I think this is lost on a lot of people," he said. "And some people conflating the two." He added that the only reason she is still considered illegal is because "Congress has yet to do the hard work to pass immigration reform."
Mateo was picked, de Leon's office said, because she is in the unique position of empathizing and helping students who were once like her. According to Oakland-based EdSource data, an estimated 72,300 undocumented students are enrolled in California's public colleges and universities.
Mateo tweeted that she hopes she can help people who have similar backgrounds: " In #lawschool I often wondered if I was fit to b in #lawjournal, #mootcourt bc not many ppl w/ my same background did. I always went for it bc even if I felt inadequate I thought I could add something of value. I hope to do the same w/ @StudentAidCommission." 
In a statement she added: "I hope to be able to draw from my own experiences as an undocumented, first generation college graduate. I have no doubt that California can do more for all underrepresented students, especially in regions with low college participation rates, and I appreciate the opportunity to be able to help in any way I can."
Mateo was born in Oaxaca, Mexico, and was brought to Los Angeles by her parents at age 14. She didn't learn English until high school, but became the first person in her family to graduate from college, according to de Leon's office. In 2015, Mateo applied for legal status under the deferred action for childhood arrivals program, better known as DACA, but has twice been denied because she briefly traveled to Mexico in 2013 as part of the "Bring Them Home" campaign to see how border agents would react when they tried to reenter the United States.
Mateo earned a law degree from Santa Clara University in 2016, passed the California State Bar exam last year and now has a private practice in Wilmington, Calif., a suburb of Long Beach. The firm bears her name. She did not return immediate comment to KTVU on Friday. 
Associate Dean for Academic Affairs Brad Joondeph taught Lizbeth when she was a student at Santa Clara University.
"Santa Clara Law is extremely proud of Lizbeth," he said in a statement. "She embodies Santa Clara's values and mission -- a person who, despite significant obstacles, has used her education to be present for others. Lizbeth's determined pursuit of her calling, in the face of various risks and hardships, inspires all of us who desire a more just, caring, and loving world, especially for those at society's margins."
De Leon touts himself as a champion for immigrant protection. This year, he passed SB 54, the California Values Act, which prohibits state and local law enforcement agencies, including school police and security departments, from using resources to investigate, interrogate, detain, detect, or arrest people for immigration enforcement purposes.The Department of Justice this week sued California, challenging this law.
And after Trump decided to rescind the Deferred Action for Childhood Arrival program, de León said he was instrumental in negotiating a $30 million to assist the nearly 250,000 Dreamers in California with legal services as well as "safety net" funding to help DACA students stay in school should they become unable to work to support their education.
Before joining the Legislature de León taught citizenship courses to immigrants and led opposition to 1994's Proposition 187, a voter-approved statewide initiative that denied government services to undocumented immigrants.
 
The Associated Press contributed to this report.