Santa Cruz police honor Good Samaritan who tackled, detained assault suspect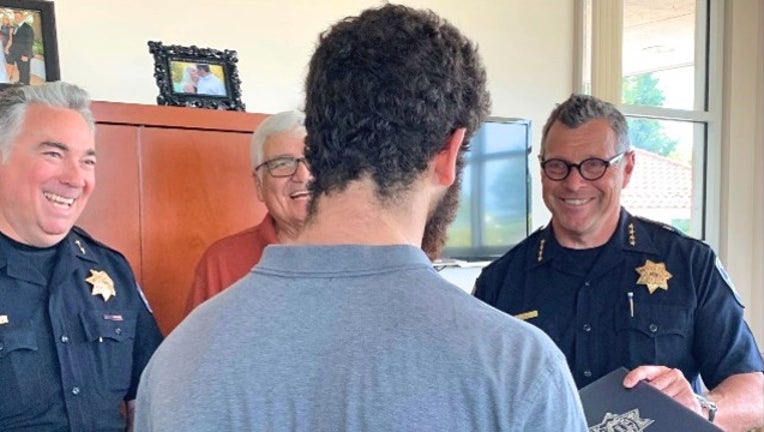 SANTA CRUZ, Calif. (KTVU) - He's being called a "community hero." Police in Santa Cruz honored a man who they said put his own safety at risk by coming to the aid of a victim who was being assaulted.
Police said over the weekend, they responded to a report of someone being attacked at a business in the 300 block of Ocean Street. Upon arrival, they found that their job would be a lot easier, thanks to the help of a man who happened to witness the attack as it happened. 
"Officers arrived and found the suspect Jose Mendoza, 25 years old from San Jose, detained by a Good Samaritan," Santa Cruz police wrote in a Facebook post on Monday. 
That Good Samaritan, who officers said wished to remain anonymous, jumped into action after he saw the suspect repeatedly hitting the owner of the business in the face. 
"He immediately came to the owner's assistance and tackled the suspect to the ground and held him there until officers arrived," officers said. 
It's the kind of act carried out by those who have made it a living to protect and serve their community, police noted. 
And they were so impressed by his selflessness and swift action to help, that they wanted to express their gratitude and honor him with SCPD's "Chief's Commendation and Challenge Coin."
In their Facebook post, police shared a photo of the commendation ceremony, only showing the back of their anonymous hero surrounded by smiling faces. 
"This community hero took the rare action of inserting himself into a situation with inherent danger and risk to his safety to help someone in need," Chief Andrew Mills was quoted in the post.   
Police said the man he tackled is considered dangerous. They said Mendoza is a violent parolee who left his 5-year-old child inside an idling car during the assault. 
Officers arrested Mendoza on charges of assault with a deadly weapon, child endangerment, and damaging a communication device with intent to prevent help.
As for their Good Samaritan, there was nothing but gratitude for the man who stepped up and stepped in and put himself in danger for someone else. 
"This Good Samaritan displayed the willingness to risk his safety to help another," police noted, adding that he demonstrated "a readiness usually reserved for police officers and firefighters."