Santa Rosa: Jury hears racially-charged audio at resisting arrest trial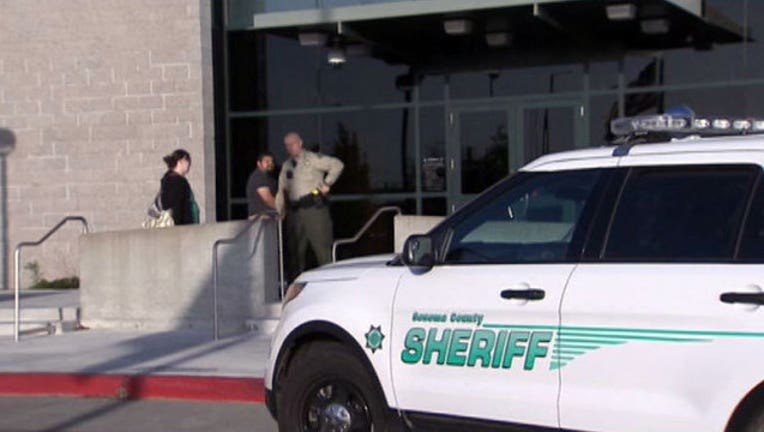 article
SANTA ROSA, Calif. (BCN) - A Sonoma County jury today heard a recording of a mother and daughter using racial epithets about a sheriff's deputy they claim used excessive force during the daughter's arrest last year.
   
Michelle Lemos, 48, and Gabrielle Lemos, 19, are charged with misdemeanor resisting or obstructing Deputy Marcus Holton when he arrested the teen outside their Petaluma area home.
   
Holton said he was investigating a possible domestic violence incident at the Liberty Street home around 11 p.m. on June 13, 2015.
   
Gabrielle's sister Karli was sitting in a truck, and Holton said when he opened the passenger door to talk with her, Gabrielle "smashed against" his right side where his weapon was holstered.
   
Holton testified he then intended to arrest Gabrielle, but Michelle and another woman shielded her. At one point, Holton said, Michelle told Gabrielle to go inside the house, and Holton said he grabbed her arm to handcuff her but she resisted. Holton said he then grabbed her and took her to the ground.
   
Holton said Michelle grabbed him by the collar and kicked him in the face and shoulder during Gabrielle's arrest. Gabrielle was arrested, treated for facial injuries at Petaluma Valley Hospital and booked in the Sonoma County Jail. Michelle also was arrested for resisting arrest but was not booked.
   
During a phone conversation between Michelle and Gabrielle around 2:45 a.m. June 14, both used racial slurs in reference to Holton, who is black.
   
In the tape the jury heard this afternoon, Gabrielle also says she is fine, and laughs several times.
   
"I just think it's funny that a grown man had to take me to the ground," the petite teen says and laughs.
   
Defense attorneys claimed the tape's racial epithets would prejudice the jury against their clients.
   
"There's a real danger the jury will convict her for being a bad person," Gabrielle's attorney Izaak Schwaiger told the judge.
   
Michelle's attorney Jack Scott said any bias the defendants may have shown that night was related to gender, not race because they wanted a female deputy to be called to the chaotic event. About 10 male law enforcement officers responded, according to trial testimony.
   
Deputy District Attorney Jenica Leonard argued for admitting the recording. She said during cross-examination of her witnesses, the defense violated Medvigy's order to steer clear of introducing a racial element in the trial.
   
Leonard said the tape shows how "they (the defendants) asserted themselves from the moment Holton got out of his patrol car."
   
Before the trial, Judge Gary Medvigy ruled the tape would not be introduced as evidence, but he reversed his decision this afternoon.
   
"Your clients bum-rushed him (Holton} and your clients went ballistic," Medvigy said.
   
"In cross-examination, you just threw the kitchen sink at Deputy Holton. This case just reeks of racism and why they behaved so badly to
Deputy Holton," Medvigy said.
   
Medvigy also said the defendants did not want a black man to respond to the incident.
   
"That is loud and clear in the phone call. I'm going to allow the tape," Medvigy said.
   
The trial resumes Monday morning.