Santa Rosa pair arraigned in shooting of prostitute at motel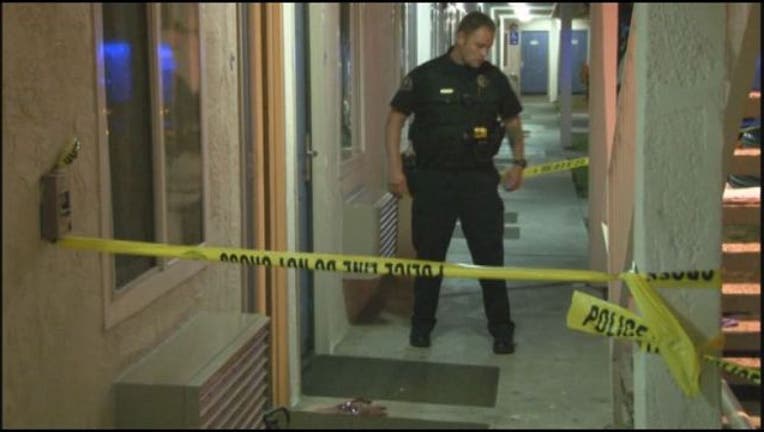 SANTA ROSA, Calif. (KTVU and wires) -- Two Santa Rosa men were charged in Sonoma County Superior Court Tuesday afternoon in connection with the shooting of a prostitute at a Rohnert Park motel earlier this month.
Ronnie Paul Threadgill, 22, is charged with attempted murder, assault with a firearm and battery. Koa James Sibley, 19, is charged with being an accessory. They are scheduled to enter a plea Thursday morning.
Threadgill and Sibley, 19, who were participating in a Santa Rosa Junior College weight training and conditioning program to try out for the Santa Rosa Junior College football team, were arrested Friday, Rohnert Park police said.
The woman in her 20s was shot multiple times in and around a room at the Motel 6 on Commerce Boulevard in Rohnert Park around 2 a.m. July 2. She remains hospitalized with serious injuries and has been unable to communicate with detectives, Rohnert Park police said.
Threadgill is suspected of shooting the woman and hitting 24-year-old Alton Emanuel Stewart, who was staying with the woman, in the head with a gun, police said. Stewart is scheduled to be arraigned July 29 on a pimping charge.
Threadgill is being held under $1.1 million bail and Sibley is being held under $500,000 bail. Deputy District Attorney Keith Shaw said Threadgill had "quite an extensive" juvenile record.
A Rohnert Park police officer stopped Threadgill and Sibley as they drove away from a Jack in the Box restaurant near the motel minutes after Stewart reported the shooting, police said. Threadgill and Sibley said they were SRJC football players and they had just stopped at the restaurant for food, police said.
The officer found food in the car and identified Threadgill and Sibley, who were released after another police officer requested help with another possible suspect, police said.
Video from businesses near the motel showed Threadgill being dropped off by a car and walking to the motel, then running away from the motel and being picked up by the car a short time later, police said.
Police then determined Sibley's car in the video was the one leaving the restaurant after the shooting, and Threadgill matched the description of the suspected shooter, police said. Detectives also found photos of Threadgill wearing distinct eyeglasses that were the same as those found in the motel room, police said.
Stewart identified Threadgill as the man who struck him in the head with a gun as the suspect fled the hotel room after the gunfire, police said.
Rohnert Park, Santa Rosa Junior College and Santa Rosa police and the Sonoma County Sheriff's office arrested Threadgill as he drove away from the weight training class on the college campus around 4:30 p.m. Friday, police said. Sibley was arrested around 6:50 p.m. Friday at work in the Santa Rosa Plaza.
Detectives found evidence related to the motel shooting in Threadgill's and Sibley's apartment in the 1500 block of North Street in Santa Rosa, Rohnert Park police said.
Threadgill and Sibley hoped to make the 100-players team in August, SRJC football coach Lenny Wagner said Monday. Sibley had a better chance of doing so than Threadgill, Wagner said.
Threadgill was with the team in 2012 and 2013 but withdrew from classes, Wagner said. Sibley was a math major and Threadgill was on academic probation three times, Wagner said.
"It's amazing they hung out together. They're two different kids," Wagner said.
"Neither of them are aggressive. Threadgill is really timid. Everything tells me he's not capable of this, but it definitely sounds like he had that other side to him," Wagner said.